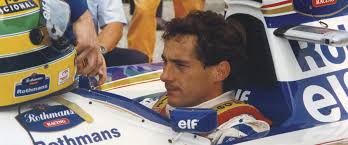 In June 1984, a young Brazilian took the world of Formula One by storm. Starting the Monaco Grand Prix at 13th on the grid, he tore through a field that included six past, present or future world champions and was only denied first place on a technicality.
It was a remarkable performance in only his sixth race. But it set the tone for the career of Ayrton Senna – full-tilt, unpredictable and frequently falling foul of the rules and politics of the sport. It was a career that yielded three world titles in four years. It was over in a decade, ending abruptly, momentously – and tragically.

As a committed non-petrolhead I was unsure how much I'd enjoy Kapadia's documentary, having generally regarded Formula One as a noisy version of watching paint dry and its drivers as charisma vacuums at the wheel of very fast-moving advertising billboards. But the director – who had never been to a Formula One race before starting the project – brings a fresh, outsider's view to the rhythms and rituals of a sport that, even in a safety-conscious and technically advanced era, is still one of the most challenging, physically demanding and downright dangerous there is.
And in Senna's story there are all the ingredients that make great drama (a biopic starring Antonio Banderas was mooted in the mid-Nineties but came to nothing). Prodigiously talented, the teenage go-kart champion found himself at the heart of a high-profile, multi-million dollar industry at an early age. His successes (and failures) struck a chord with a sports-mad country emerging from an era of dictatorship and beset by poverty. And his career was dominated by a rivalry with another of Formula One's all-time greats – Alain Prost.
Senna's intense, "second place is nowhere" attitude was a complete contrast to that of the quiet, calculating Prost; a driver who was happy to rack up the points without always taking the chequered flag – but without crashing out of the race, either. Even when the duo were both signed to the McLaren team, the desire to be top dog was paramount.
The rivalry became increasingly personal – Prost at one point suggesting that Senna's religious faith encouraged him to take too many risks – and Senna constantly railed against a Formula One establishment that he saw as pro-European, pro-French and above all pro-Prost.
Even as he accumulated world titles, his sense of injustice remained and he saw himself as a perpetual outsider. He was also disillusioned as the sport became more about the technological advancements of the car than the skill and courage of the driver. What remained constant was his desire to keep winning and go ever-faster – knowing all the time that this might lead to him paying the ultimate price.
The film's undoubtedly a dream ride for any boy racer. Eschewing a narrator or talking heads keeps the focus firmly on the contemporary footage and it's pulse-racing stuff. Kapadia also gets a feel for the drama and tension of the pits, where you can almost smell the petrol and sun-baked tarmac – not to mention the testosterone.
And he's well aware of the glamour that, then as now, is associated with a lucrative but dangerous sport. Off the track Senna is rarely without a beautiful girl close at hand, and there's a priceless clip from a late Eighties edition of the Wogan TV show where the diminutive, Charles Aznavour-lookalike Prost does a bit of consummate flirting with Selina Scott.
But details of actual relationships are frustratingly vague, and a more thorough examination of Senna's relationship with a Brazilian government that obviously saw him as a poster boy might have lifted the film into the same league of great sports documentaries such as When We Were Kings.
Ultimately, the film didn't convince me that, even though his undoubted religious faith and estimable charity work endeared him to Brazilians, Senna transcended sporting and national boundaries in the same way that Ali or Pele did. But he was obviously a hell of a driver and a fascinating, complex man.
The film certainly does justice to that. It hasn't converted me to a passion for Formula One, but similar agnostics can rest assured that the film is a much superior model to the straight-to-DVD hagiographies that tend to proliferate around iconic racers. It proves once again that real life – especially in the sporting arena – can produce stories that are as compelling, and as poignant, as fiction.
Reviewed on: 03 Jun 2011
Share this with others on...