Eye For Film >> Movies >> Rules Don't Apply (2016) Film Review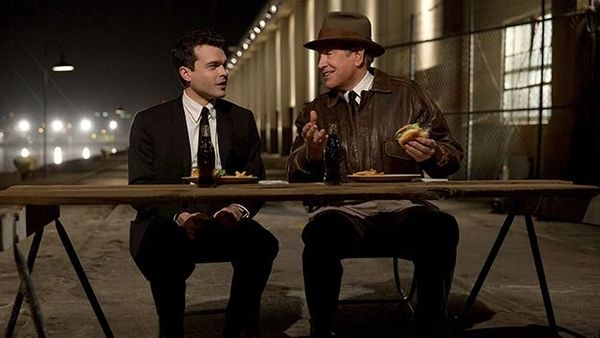 Warren Beatty has allegedly been working on a Howard Hughes documentary for a few decades now, and the result is a mishmash of fact, anecdote, fiction, and a schmaltzy love triangle in the form of Rules Don't Apply. It sets its schizophrenic tone right at the start, quoting Hughes as saying: "Never check an interesting fact." Whether he did or not is entirely beside the point, but also throws the film off kilter in a way that it never really recovers from.
Our point of reference is a private driver for the Hughes organisation, Frank Forbes, played by Alden Ehrenreich whose demeanour and looks suit Fifties Hollywood more than they do contemporary cinema. He is tasked with chauffeuring Marla Mabry (Lily Collins), an aspiring actress from Virginia, and one of Hughes' many fancy payrolled women. Hughes' constant rebuffing of Forbes' business aspirations and Marla's desire to make it in Hollywood form the centre of the first half of the film, and the pacing and editing are thoroughly disjointed and frustrating due to it. Instead of allowing these characters to naturally build a relationship in the margins of the biopic's main story, the film seems content to confusingly mix montage and exposition together, resulting in a disjointed narrative.

When the eccentric inventor finally steps from the wings, Warren Beatty himself takes up the mantle, bringing his credits on this film to writer, director, and actor. His Hughes is cobbled together from the same facts that we're asked not to check: an affectation for TV dinners and fast food over fine dining, a slipshod but incisive attitude to business, and an obsession with both his father and keeping his appearance and whereabouts a mystery. Every time we are afforded a glimpse of the outrageous figure, the film crackles with energy. As a character Hughes is both larger at than life and barely contained by fiction: the perfect study for a fast and loose biopic. It isn't that Ehrlich and Collins are poor, it's just that their desires and story arcs are only as interesting as they are tied to the erratic moods and movements of Hughes.
As the film goes on, predictable romances blossom and dwindle, characters express outrage at Hughes' many counterintuitive and seemingly mindless decisions, but any sense of drama is outweighed by the light comedy and more provocative scenes of the enigmatic genius. There are moments where Beatty has imbued Hughes with a wistful melancholy, as proven by his frequent digressions into stories about his father and his own potential legacy. He is shown as startlingly astute in between bouts of mania, and as his paranoia and temperamental nature see him whittle down his aides (including Martin Sheen and Matthew Broderick) the juxtaposition of his actions starts to feel less like a humorous stab at the man's mental state, and more like a close examination of a person suffering from an undiagnosed case of bipolar disorder.
Given the prosaic resolutions of the other stories, it's a relief that Beatty had the wherewithal to anchor the film on Hughes. Without him, this is just another lame romcom featuring the aspirational men and women determined to succeed in business and Hollywood. The framing is clearly intentional, but it doesn't serve the story in any particularly meaningful way, and as such this ends up feeling like a witty and smart biopic struggling to break free from a meandering and underbaked story we've seen a hundred times before.
Reviewed on: 21 Feb 2017
Share this with others on...