Eye For Film >> Movies >> Road To La Paz (2015) Film Review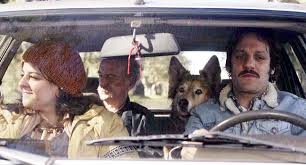 Two very different men. A long road trip. A pun in the title. You may feel as if you've been here before, and from the way he shoots the film, it seems Francisco Varone is aware of that. Rather than revelling in the Argentinian landscape he gives us overcast skies, roadside scrub, empty fields. Many sequences are played out within the car itself, the windows obscured by condensation. It's theatrical veteran Ernesto Suarez's first film role, but for most of the running time it feels as if he's in a play. Only occasionally does the cinematic, the sublime, break through.
Before we set out on the road to peace we're in Buenos Aires, a city full of opportunities that Sebastian (Rodrigo De la Serna) isn't taking. He's managed to secure himself an unfeasibly beautiful and ambitious (and underdeveloped) wife (Elisa Carricajo) who is waking up to his uselessness, and when a series of wrong numbers turn out to be people looking for a taxi service he is persuaded to set out in his beloved Peugeot 505 and make himself a bit of money. In this way he meets Jalil (Suarez), an elderly man whose weak bladder and religious devotions he sees as a continual source of irritation - but Jalil has money and is prepared to pay a lot of it to be driven to Bolivia. it's a trip of over 2,000 miles, a lot of time to spend together for two people who dislike each other, but it's an opportunity Sebastian can't afford to ignore.

With this badly fitting clothes and his hefty moustache, Sebastian oozes sleaze, but the reality is that he's far less unlikeable and uncaring than he wants people to think. On the road, small events begin to break him down. Soon the two are joined by an injured dog whom Jilal insists they have to help, and Sebastian can't help warming to him. Attending a Sufi ceremony, Sebastian's feeling of being left out whilst others have fun is palpable, but he's no prepared for being warmly drawn in. Meanwhile, Jilal is going through his own process of change, partly because of an unspoken commitment he has made which is making him acutely aware of his fragility, partly because his increasing sympathy for his driver threatens to bind him to a world he has been preparing to leave.
These are lonely roads, badly kept in places, and many hazards await our heroes along the way. The story is gently played out and generally avoids exploitation, despite the risk of Jilal coming across as the magical exotic character there only to help Sebastian experience transformation - Suarez is too grounded for that. The usual weaknesses of the genre are present, and Sebastian's spiritual self-discovery never extends to recognisng the privilege he has in being able to go off and do all this whilst his wife takes care of thins at home, but this is tempered somewhat by Jilal's embodied awareness of worldly things, especially towards the end.
Whilst it doesn't really do anything new and isn't as deep as it seems to want to be, Road To La Paz is well-paced and enjoyable, with endearing characters (including the dog) and a down-to-earth take on modern Argentine life.
Reviewed on: 04 Feb 2016
Share this with others on...