Eye For Film >> Movies >> Ratcatcher (1999) Film Review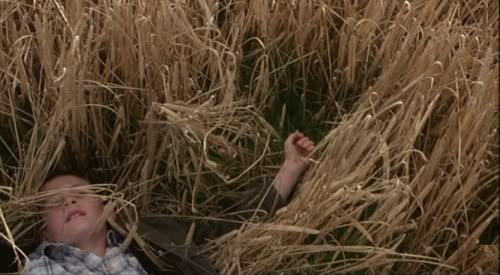 In the tradition of Bill Douglas' My Childhood, Lynne Ramsay, with her first feature film, displays an honesty that shines like the stars.
Essentially the story of a 12-year-old boy's anguish after a tragic accident, it explores his feelings of isolation within the family, and his friendship, deeper than secrets, with a 14-year-old girl who gives favours to the school gang.

Shot in Glasgow, it captures the shared grief amongst women, the casual cruelty of boys at play, the poverty of hope in tenements that need to be pulled down, the sadness of the romantic heart.
The boy's father is a drunk. His sisters fight. They all fight. His mother makes jam sandwiches as a treat and wonders how she's going to pay the rent next week.
The humour is in the detail, patchworked between bleakness and the unpredictability of danger. The boy's fascination with the canal is like a death game, as if fear cures his loneliness.
He takes a bus all the way out into the country, where corn is the colour of honey. This, he believes, is paradise, where some day, one day, he will come to live. "I want a big house with a bath and a toilet and a field," he says.
There is an artistic sensibility in Ramsay's approach to film. It is not enough to show deprivation, squalour, marital exhaustion. She looks for something more, the human touch, the poetry in pain.
She writes tough, but feels soft. Also, she has a painter's eye and everything she does is hers. She does not steal ideas from other people and her work with the children is remarkable.
Reviewed on: 19 Jan 2001
Share this with others on...