Eye For Film >> Movies >> Queen And Country (2014) Film Review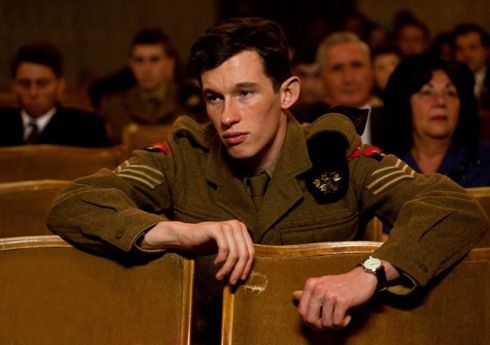 Beginning with a shot cribbed from Hope And Glory, John Boorman's 1987 elegiac semi-autobiography, Queen And Country, submerges itself into the cultural consciousness of 1950s Britain. Bill Rohan (Callum Turner) is living with his parents on an island in the Thames, far from the rubble and rabble of London. Nazi Germany is no longer a threat, and Shepperton studios is already at work cementing them into film history, Rohan watches a film crew patiently capturing multiple takes of an actor in full Nazi officer uniform try to make his watery death as convincing as possible. Respite is brief as the repetition of daily life is upturned by the inevitable notice to serve King and Country.
Except, Rohan never makes it to the war and neither does his irascible new friend, Percy Hapgood, played with an often frustrating amount of intensity by Caleb Landry Jones. Instead, they are put to work teaching new recruits how to type "like ladies", and giving preparatory lectures to new conscripts about the reality, and suspect morality, of the war between North and South Korea. Boorman crafts the camp as a mix Catch-22, M*A*S*H, and Dad's Army and every stereotype of British soldier is present and accounted for: Rohan, Hapgood and veteran Redmond (Pat Shortt) are the slackers and schemers. Bradley (David Thewlis) believes himself to be the army made man, a walking rulebook who acts as the main antagonist of the trio of slackers, much to the chagrin of Major Cross (I kid you not) who exasperatedly admonishes each menial offence. Despite the Carry-On bothering caricatures of military personnel, there's heart and substance to these characters. Hapgood may threaten to eat through the walls of his barrack thanks to some voracious over acting, but his frustrations with the regimented but essentially meaningless rules of the camp are well founded.

There's a real sense of class and moral warfare running through the film, yet Boorman doesn't give us a counterculture hero like Guy Bennett of Another Country. Instead, Rohan is a routine objector As his sister observes, "if you are against everything, what are you for?" This could be considered an odd move, but anchoring the audience with a perennial fence-sitter allows more room for the inevitable impact of the characters' stories, without the weight of an absolute ideological argument.
Rohan also has his mind set on romance, smitten by Ophelia, his reticent love interest. There are some interesting tonal gymnastics at work too. The hijinks of a camp caper about a stolen clock and a furious officer weave neatly into a doomed love story without either stealing the other's thunder. The most interesting story thread is that of the psychological war between Bradley, Rohan and Hapgood, and it gets its dues with a significant emotional punch.
With its tone veering wildly from outright comedy to memoir of Fifties Britain and then back to the gut wrenching reality of life for young soldiers, Queen And Country could be a mess, but instead it manages to make these elements work cohesively enough to offer an interesting picture of what happens when a decade of war and strict adherence to authority casts its shadow over the peace of a new generation: "Thanks to your generation, our country is fucked." says one indignant officer, "No, your Country" retorts Rohan. As a two fingered salute to their country, this film is a suitably irreverent success.
Reviewed on: 08 Jun 2015
Share this with others on...