Eye For Film >> Movies >> Putting On The Dish (2015) Film Review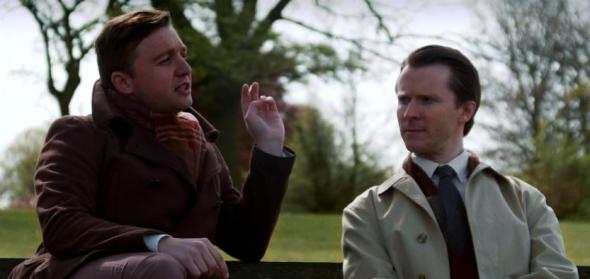 A magnificent example of how great films can emerge from simple ideas, Putting On The Dish is astutely written and delivered with perfect timing by its two cast members. Two men, one park bench, six minutes - this is all that's needed to deliver a slice of history, a potent bit of social comment and a good many laughs.
The comment is in the language, which speaks for itself. The is Polari, a slang version of English so far removed from the original that newcomers to it may very well find it impenetrable. It was used by gay and bisexual men across the UK in the years when homosexuality was illegal; it acted as a safeguard against infiltration, but for many speakers, it became a form of art. Writer/directors Karl Eccleston and Brian Fairbairn capture both dimensions with the witty and happily unsubtitled banter on display here. Following an initial overture in English, the Polari creeps in slowly, cautiously at first, then bursts forth joyously, in full flow.
There's a joy in discovering somebody like oneself that anybody can relate to, but of course, having things in common doesn't guarantee getting along. The frantic tide of gossip unleashed here threatens to take the men's new intimacy too far; the comfort level of a stranger can easily be misjudged. Relatively few people today, even in the gay scene, are fluent in Polari, but you won't have to be in order to appreciate the form of this conversation and pick up on much of its content, with facial expression and gesticulation aiding communication. The occasional intrusion of plain English, meanwhile, acts as a warning signal, heralding withdrawal.
With a beautifully composed final scene (which may nonetheless make some viewers wince), this is a fantastic little film that by rights should advance the careers of all involved.
Reviewed on: 17 Nov 2015
Share this with others on...