Eye For Film >> Movies >> Preparations To Be Together For An Unknown Period Of Time (2020) Film Review
Preparations To Be Together For An Unknown Period Of Time
Reviewed by: Georgiana Musat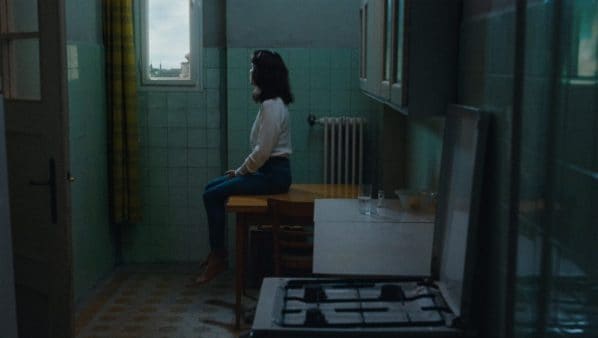 In Preparations To Be Together For An Unknown Period of Time, a cerebral, desaturated Hungarian melodrama directed by Lili Horvát, two neurosurgeons engage in an erotically charged cat-and-mouse game that feels grounded and simultaneously imponderable. After briefly meeting in the United States for a medical conference, where they nibble at each other's attention, Márta (Natasa Stork) and János (Viktor Bodó) go on separate paths, not before making a Linklaterian promise to meet again, two months later, in Budapest, to complete the romance. She's easily convinced that János is the man of her dreams, an idea she's insatiably obsessing over so much, that she cuts her ties with her job and friends and moves to Hungary just to be in his proximity.
It turns out, János doesn't exactly recall ever meeting Márta. A first red flag in a series of many, she seems to make up romantic projections for fear of rejection, or as a way of rewriting traumatic events. Is it possible that she was imagining this whole story? As she starts working at the same clinic as János, and as they start to constantly bump into each other, it becomes transparent that they are both teasing one another, making the little, "I don't know you" charade seem like another way of postponing the romance, of leaving it on a platonic yearning footing. Probably the peak of this mating process would be a gracious reverse walk, when the two engage in a mirroring game, by walking together from opposite sides of a street.
As in Angela Schanelec's A Dreamed Path, there's no border between dreams and reality. They're volatile and frustratingly sought one in another, driven by an exceptionally unreliable narrator. Charmingly poker-faced, Márta is a neurosurgeon who takes everything with stark seriousness and politeness (no wonder that, even when it comes to unfulfilled love, she prefers to believe she has a brain disease rather than facing rejection). The film also puts an emphasis on women's perception of romance, all by magnifying the protagonist's struggle to find the ideal man. At a quick glance, every possible detail of Márta's stay in Budapest is linked to a series of romantically involved symbols. She's staying in a ramshackle apartment with a view of the same bridge the two were initially planning to meet on, where she re-reads his freshly published neuroscience book every night. Her whole existence is reduced to pleasing him, seeing him, being around him. Despite being exceptional at her job - spotting medical details like no man around her does - Márta has no reservation giving up everything for a charming stranger.
Preparations To Be Together For An Unknown Period Of Time heavily relies on visuals; dialogue is often laconic, employed mostly when there's a need to release tension; at times, the build-up is so intense that viewers will also find themselves short of breath, and yet still lingering. Calling it a plain melodrama would be reductive for such a thrilling piece of cinema, situated on the unfathomed terrain between Brian De Palma's work and Jean-Pierre Jeunet's Amelie.
Reviewed on: 16 Oct 2020
Share this with others on...