Eye For Film >> Movies >> Pirates Of Salé (2014) Film Review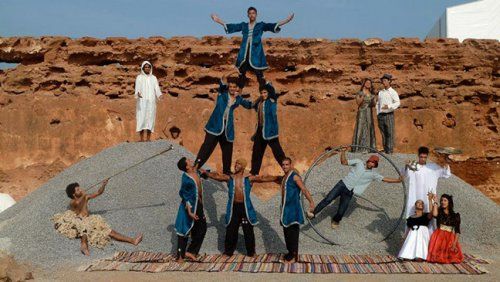 On the coast of Morocco, where the red earth meets the blue sea, there's an ancient fort, battered by the elements, eroded by the salt wind, yet still standing strong. Once it was used by pirates who were welcomed by the local people for the prosperity they brought. Now the town of Salé is a forgotten place where unemployment is rife and people struggle to get by, but if you walk past the fort you can see white fabric billowing up above it like a pirate sail. Have the corsairs of legend returned, or is something still more fantastic going on?
Inside the fort is another world. Here, young people who previously had few prospects in life are being trained in a new art - that of circus performance. They muscle up, they extend their flexibility, they learn to move - and they also learn to think. Circuses have never really existed in Morocco before. In Salé, there's no recent tradition of creative art. Trainer Jawad is determined to take these kids beyond their gasps of awe into a place where they believe in their own abilities and are ready to be bold. He wants them to engage with society, intellectually and politically, to realise much more than just their physical potential.

Rosa Rogers and Merieme Addou's affecting documentary follows four of the young people training at the circus. Hajad is a street kid, desperately poor but prodigiously talented in the air, her small size giving her a big advantage in supporting and manipulating her own weight. Imed is a muscular youth who is remarkable on the pole, and who gradually discovers a burning political passion he can express through his art. Ghizlane is as creative as she is fierce, determined not to end up like so many of her peers, shut away in her mother's house waiting for somebody to marry her. Abdelali, with ten older siblings, simply wants a skill so he can earn money and help his family, but discovers much more. Their different stories combine to reveal some of the challenges that face the circus team as they try to help dozens of similar kids.
There's no pushing of messages here (except by the young people themselves), but the film isn't purely observational. It has an artistic sensibility of its own, contrasting beautiful images of the circus performances with stark depictions of life amid ruined buildings on the dusty streets. Gentle pans and shifts in focus give the performances a magical quality that might reflect something of how the kids first perceive them. The lower light inside the pavilion contributes to the sense that what goes on here is a kind of dreaming, at odds with the harshness of life outside under the bright sun, but a lingering final sunset shot seems to suggest that the two worlds might find a way to come together.
Inviting viewers to immerse themselves in the imaginary, Pirates Of Salé hints at a world where anything could be possible - even the return of hope to a forgotten town.
Reviewed on: 12 Jun 2015
Share this with others on...