Eye For Film >> Movies >> Petite Avarie (2018) Film Review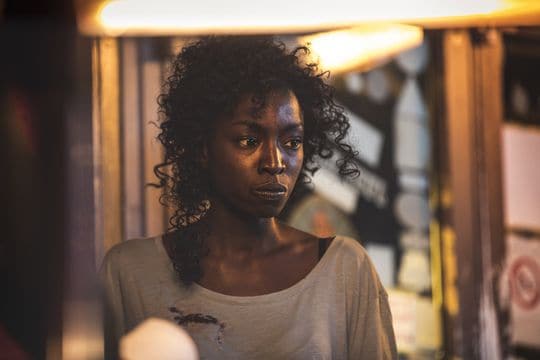 Laura (Manda Touré) comes home distraught. She has received a cancer diagnosis; she's going to lose her right breast. She's expecting that at least she can find some comfort in the arms of her partner Sylvain (writer/co-director Léo Hardt). But Sylvain, on hearing the news, remarks that cancer is a tough shout and it doesn't have to be tough for both of them. He's getting out of there. And that's not all...
Layering on the cruelty and additional bad news in wholly disinterested, deadpan style, Sylvain goes to get a drink in the local pub. But Laura hasn't finished with him yet, and she proves every bit as fierce as he is.

The story of two people who are, in their way, perfectly suited to each other, Petite Avarie is fearless in its taboo breaking and unrelentingly vicious, yet every bit as funny as it is shocking. Part of this comes from the sheer absurdity of the level to which conversations escalate, and part of it from the reactions of the other people who witness the couple's argument. Socially inappropriate as they are, there's a certain logic to Sylvain's remarks that leaves people uncertain how to respond, reduced to protesting feebly "It's not the done thing." Cast beyond the bounds of familiar experience - as people often are when confronted with human mortality - they become frozen like stage actors waiting for the stars to say their lines.
Both Hardt and Touré exhibit perfect comic timing and are intensely charismatic in their roles. The film, which screened at Fantasia 2018, takes on issues around cancer and sexuality that are very rarely discussed and despite - or because of - its barbarousness, this film is likely to be adored by many cancer patients themselves, capturing exactly the kind of black humour one encounters on cancer wards. It's a delicious alternative to all those twee films about healing energy and the importance of family, making room for the anger and passion that the subject deserves.
Reviewed on: 28 Jul 2018
Share this with others on...