Eye For Film >> Movies >> Patchwork Family (2014) Film Review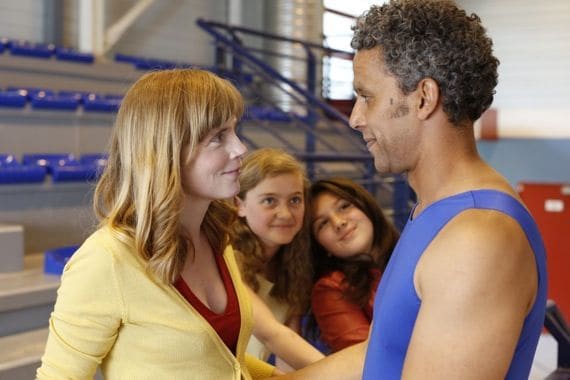 With his depiction of the everyday lives of ordinary folks and the spare rigour of his style Pascal Rabaté has the tone of a lighter version of Ken Loach.
Set in the modest town of Montauban near Toulouse he focuses on the character of Christian, a sales representative for a pest control firm (played by Sami Bouajila, a popular French actor and entertainer with Tunisian roots), who goes about his daily rounds with a young apprentice in tow.
He's divorced and considers himself a bit of loser with the only positive spot being his much adored teenage daughter (Talina Boyaci) who seems more level-headed than most of the adults.
His fortunes appear to change when he meets a single mother Christine (played by Isabelle Carré who was as pregnant as her character at the time of the shoot), who also has a teenage daughter.
Through the friendship of the two girls they get know each other – and it all seems to be coming together for them to make a fresh start in life together.
As part of his rehabilitation, Christian signs up to take part in the town's summer triathlon as way of redeeming himself for his petty misdemeanours – as a sales representative he has sailed close to the wind by selling unnecessary treatments to unsuspecting house owners – a practice that will come back to haunt him.
Rabaté is strong on seeking out the irony in middle class mores (there's a hilarious scene in which three neighbours engage in what appears to be an impromptu grass cutting contest) as he observes the human foibles of his protagonists. Mostly though it is not laugh-out-loud humour, resulting more in knowing smiles of sympathy.
With some echoes of Holidays By The Sea, for which he won best director at Karlovy Vary in 2011 Rabaté evokes a slightly theatrical style in the playing of his actors and the main set-pieces.
Although there are clichés to hurdle along the way, what proves most attractive is the simplicity of the storytelling, the truthfulness of the performances and the way Rabaté ensnares you in the everyday emotions of his protagonists.
Reviewed on: 07 Jul 2014
Share this with others on...