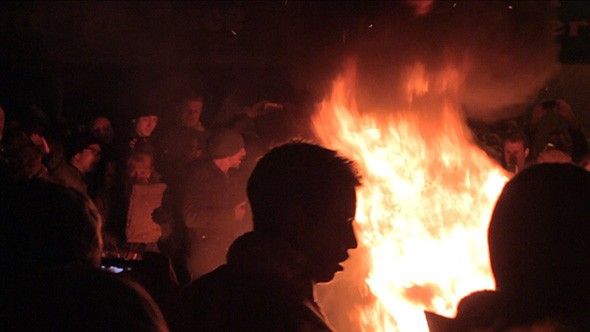 In a somewhere town with discovered sound and streets that are sometimes empty, in a disconnect and the small effect and the sense that there's meaning or might be.
In logo screen-printed on high viz neon and tradition that dates to knave and peon, in the isolation of dual exposure and the burning barrels and the men's composure and the sense of a place that is general stores and non-division football scores. The flat crack of unseen fireworks, the glowing staves as the fire works, the press of crowd and guidance of marshall, the act of documentary (partial).

Tom Chick made Death In A Nut and The Fisherman's Daughter and turns that same eye to something rooted differently in truth, still folkloric, still oneiric, but more difficult, less traditional but perhaps stronger for it. When one does know that it's the burning barrels of Ottery St Mary it is, strangely, no better for it. There's enough here to grasp the intent. No holding of hands, no path to follow. This is (an) England. Call it the creation of mystery, the sense of a space around which context might fit, a psychogeographic essay. Light, sound, the suspicion of heat - neat.
Reviewed on: 19 Mar 2016
Share this with others on...