Eye For Film >> Movies >> One More Time With Feeling (2016) Film Review
One More Time With Feeling
Reviewed by: Luke Shaw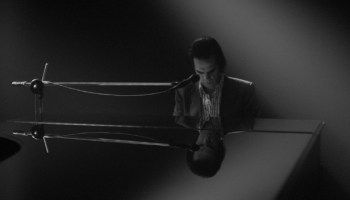 All art is ultimately transient. The austere aesthetic of classical architecture that seems to endure in all our minds totally ignores the gaudy colour palette that used to cover them. Time wears away all things, changes perspectives, twists irreconcilably. Andrew Dominik's new documentary attempts to capture a fleeting moment of time, before those involved change their minds and refuse outside access.
One More Time With Feeling is a harrowing voyage into one man's personal tragedy, and his attempts to wrestle with the impermanence and pointlessness of art in the face of great trauma. Nick Cave's son, Arthur Cave, died tragically in 2015, and Nick's new album Skeleton Tree is a fractured, desolate masterpiece. Dominik approached Cave with the idea of documenting the recording process of this incredibly intimate work.
The tensions are highlighted early on, as both Cave and long time Bad Seeds collaborator Warren Ellis question the point, and the 3D recording process for the film. Thankfully Dominik doesn't waver, resulting in one of the most poignant and illuminating movies about the art of recording. A primary camera is mounted on a crew member that allows voyeuristic access to the recording process, while a secondary camera rig orbits the grand piano that Cave so frequently orchestrates his band from.
The rotating camera also cuts off Nick Cave from the view of the performers in the same way that Cave talks about his change in personality. Previously he was a confident, strutting rock star. Now his personal tragedy has left him floundering from minute to minute, unable to anticipate how events will affect him or how he will feel at any given moment. The confessional attitude extends to his deconstruction of the songwriting process. In whispered voiceovers he explains how he despises overdubbing, how he previously used to work each line of a song to razor sharp perfection whereas the songs for Skeleton Tree are raw, unhewn fragments of emotion laid bare for all to see.
In doing so, Cave also identifies Ellis as the lifeforce of the band, a pinprick of light and warmth in the middle of an oil black maelstrom of sadness. He refuses to occupy the spotlight, but the camera frames him as a stoic conductor of electronic static, bursts of strings and choir like synths. Cave's wife Susie also features, not as his muse as is typical of most rock endeavours, but as a focal point - a towering artistic talent that Nick is both humbled and confused by, going as far as to declare all men 2D, yet all women unknowably 3D.
Studio takes of the songs are the real gift in this film, and they're all stunningly rendered, with groaning bass and plaintive piano chords all treated with absolute respect. Cave mumbles free-form beat poetry in quiet intervals, talks about the nature of time and all things as the camera glides effortlessly around, escaping through cracks in the recording studio and off into the wide blue yonder.
One of the most poignant lines that Nick speaks in his irresistible manner, after he's done excoriating the sunny veneer of platitudes, expands on the pointless nature of art in the unfathomable universe. What's the point of anything if all expression is billionth of a millionth of a fraction of matter in a vast and infinite space? Nick counters with the fact that despite the universe's faceless grandeur, it does not have conscious, but we do. As humans, the transient nature of art matters not, because the ability to commune so acutely through artistic expression is something that can make a few songs tower above the entire cosmos combined. One More Time With Feeling is an unparalleled invasion into the most private of times. It is a beautiful, devastating experience that traps a moment of profundity in the amber of cinema.
Reviewed on: 11 Sep 2016
Share this with others on...