Eye For Film >> Movies >> Notes On The Other (2009) Film Review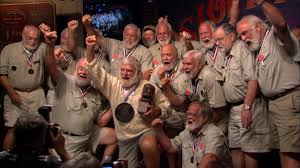 Once upon a time, Ernest Hemingway, then an unknown, wondered what it might be like to be somebody else. It was the incident that precipitated his spectacular career. After his death, which itself involved a fracturing of his identity, his character was immediately assumed by impersonators. Now, 48 years later, an annual convention of Hemingway look-alikes takes place in Key West, Florida, where his successor is chosen. It's not about somehow assuming his talent as a writer. It's about becoming the man.
If none of this makes sense to you, you might benefit from reading some of Hemingway's work before watching this film; but even in isolation, it's an intriguing, poetic piece of work. Beautifully shot with a stillness which perfectly reflects the character of the author - an adventurer, yes, but one for whom it was all about observation - it moves between the convention, the room where Hemingway spent his final hours, and Pamplona, where the running of the bulls shaped his life.
There, the son of the man whom he imagined being - himself bearing a curious resemblance to the author - photographs the chase every year from his family shop. We watch him watching and it's not quite clear whether this is the real thing or he's watching events on a screen. This ambiguity can be found throughout the film. It's not a common characteristic of documentaries - at least not deliberately - but here it's spirit, more than plain fact, that matters, and spirit which brings us closer to the truth, whatever that might be.
Notes On The Other unfolds like a fairytale and will leave you wondering long after the credits have rolled. It's a beautiful tribute to a complex man but it's also something which questions what it means to be a man - a human being - at all. It has that poignant, melancholic character so often at the heart of Hemingway's own work, yet there's also a sense here of something vibrant, almost dangerous, a personality so vital that mere death cannot finish it off. It's an extraordinary little film.
Reviewed on: 24 Oct 2009
Share this with others on...