Eye For Film >> Movies >> Not Required Back (2016) Film Review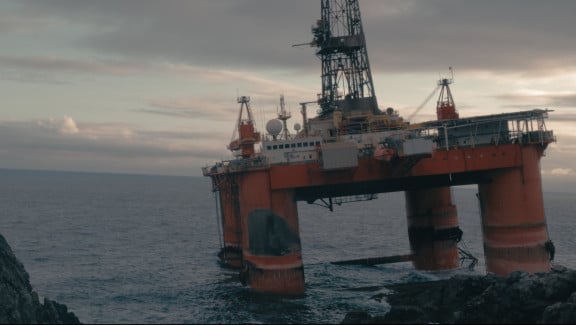 A semi-submersible drilling/exploration platform, an "oil rig", on the rocks. A radio squall, the shipping forecast beneath it. A nosebleed. Disintegration at the docks - the decline of an industry made littoral, beached and decaying. Not Required Back is an impressive bit of impressionistic filmmaking, sunsets on northeastern hinterland, phonecalls unanswered, interpretive dance through windscreens.
Jamie Robson's uneasy frame has little company in the landscapes, Aniela Piasecka is the voice not answering the phone. One sequence could almost be a song by Arab Strap, Clemens Bacher's score of equilibrium distorting electronica recalling the consequences of big weekends, offshore drug testing, an accent moved up towards Scotland's A90 and beyond. It's hypnotic, a drive that becomes a late-night wander, and it's strong. Peter Marsden's film is captivating, haunting - transporting. This is a poem of tone, seven minutes or so that swells and loops, not just dreamy but arch and intent enough that words like oneiric feel not just earned but obligatory.

From landscapes and passenger seat, the first shot is of what I believe to be the rig Transocean Winner - in the competitive film of short film, Not Required Back should be a winner as well. It's efficiencies as a piece are reflected in its scope - it looks like good use was made of a long Scottish summer sunset, miles and footage covered under those glorious glowings. Red sky at night, audience delight.
Reviewed on: 15 Mar 2018
Share this with others on...