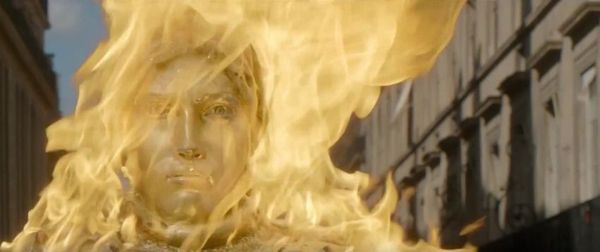 At least since William Holden, as blocked screenwriter Richard Benson in Richard Quine's Paris When It Sizzles, explained to Audrey Hepburn as his newly hired secretary, the tricks of the trade, we know that an aerial shot of Paris means nothing until it is accompanied by the right soundtrack.
Nocturama, a highlight of New York's Rendez-Vous with French Cinema, begins with helicopter noises - Paris feels under siege from the start. Romantic notions that so often accompany establishing shots of this city are drained from the get-go. This is a thriller about a massive attack, shouldered by a group of millennial militants of different cultural backgrounds. As we follow them through the Paris Métro, on the streets, into official and private buildings, as they synchronise the time every now and then, the vulnerability of urban living is accentuated in every step they take.

Adèle Haenel who has a cameo later on, as an unnamed citizen on a bike, diagnoses that an attack "was bound to happen" sooner or later. If the detailed mechanics of the plotting were part of a French Resistance maneuver during World War II, we'd be impressed by their ingenuity.
It is in the second half of Nocturama - which takes place in a department store by night - that Bertrand Bonello's prowess at showing us worlds closing in on themselves comes to full force. And the world in question this time around is not the French high fashion industry of the 1970s or a brothel at the turn of the last century - it is our world, right here, right now. In a conversation with Thomas Bidegain on Les Cowboys about actor Finnegan Oldfield who stars in both his and Bonello's film, he told me that Nocturama was being edited the day of the Bataclan attack in Paris.
The department store here is not an emptied-out one like the Samaritaine in Léos Carax's Holy Motors where former lovers meet to say goodbye to a past. Isabel Marant and Fendi dresses, stuffed life-sized reindeer toys, a chartreuse sofa, some swim wear, some neon Nike sneakers, toy guns, eyeshadow, mascara, giant TV screens and all the food and drink you'd ever want from the food court section, Blondie letting you know to call her any, anytime - does it make you feel alive?
The present is all there is. No past to speak of yet and consumer goods on mannequins promising what exactly? The old-fashioned childhood dream of being locked up in a toy store to play to your heart's content is so cleverly used that it turns into its own nightmare that eats up its kids. Packing a whole life in one night in one place is what movies have set as an objective before. Nocturama makes it terrifyingly clear that saying "help me" is not the same as "help us".
Reviewed on: 27 Feb 2017
Share this with others on...