Eye For Film >> Movies >> New Battles Without Honor And Humanity (1974) Film Review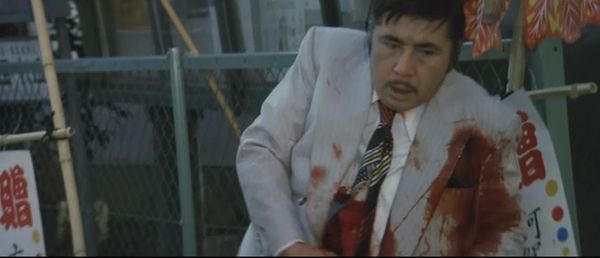 Between 1973 and 1974, the five original Battles Without Honor And Humanity films were a massive success in Japan. Keen to replicate this, but with the memoirs of real life yakuza gangster Kozo Mino now played out, Toei Studios commission three more - the New Battles - of which this is the first. With many of the original cast members now playing different characters, the result is a little confusing for those familiar with the originals, but it allows director Kinji Fukasaku to explore new ideas and draw out different aspects of gang life.
The central story hinges on Miyosi (Bunta Sugawara), who has been in prison following a failed assassination attempt, and who emerges only to find that ambitious henchman Aoki (Tomisaburô Wakayama) is attempting to seize power from the boss, Mr Yamamori (Nobuo Kaneko). With both sides seeking his support, he is caught in the middle, his honour likely to be compromised no matter what he does. Eventually, inevitably, he will have to pick a side - but what will become of him then?
Much of this is routine stuff. The film was put together at speed and it shows, falling far short of Fukasaku's best work, but Sugawara makes a charismatic lead and there are some strong individual scenes. The most notable difference from the previous films is that the yakuza no longer seem to operate outside of society, but are shown as part of a community, with wives and girlfriends and small scale business interests that give them more roundedness as characters. The female roles are much better written, probably because there isn't the same investment in satisfying an established audience or in having them be cool at the expense of emotional depth. This lends more weight to the drama throughout.
It's needed, because ultimately there isn't very much to this story beyond familiar genre grit and grimness. The clothes, architecture and constant presence of cigarettes, alcohol and sexism give it a Seventies Brutalist vibe that may have some nostalgic appeal. Crowd scenes are well choreographed whilst keeping things naturalistic, and all of the actors are competent, but overall the film fails to distinguish itself or live up to its famous name.
Reviewed on: 18 Aug 2017
Share this with others on...