Eye For Film >> Movies >> My Deadly, Beautiful City (2016) Film Review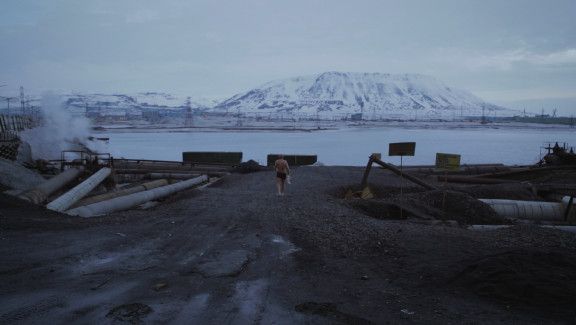 My Deadly Beautiful City is a film that's incredibly easy to reach about a place that is not. A New York Times Op Doc, it can be viewed online from a variety of sources, but (like current viral favourite Ten Meter Tower) it formed part of Glasgow's 2017 Short Film Festival programming.
The city in question is Norilsk, an island outpost of Soviet industrial might, now a deregulated driven-by-market digression from the flat arctic white of Siberia. Nickel is the primary product, a metal whose extraction and ancillary processes fill the skies with stacks and smoke. With some striking composition, this portrait of a company town is well executed. Though it has an interesting subject Victoria Fiore's film does not complicate its structure - this is a minimalist gazetteer, a glimpse of somewhere astonishingly remote and at some remove from existence. The extent of the pollution and its consequences for the inhabitants are explored, but it's in the smaller details - postcards on desks, pipelines on beaches - that a true sense of place is created.
There's a seeming dichotomy between short film at festival and online - some of this is undoubtedly a consequence of funding issues and funding models. This piece is somewhere in the uncomfortable hinterland between documentary and journalism but that rabbit-hole is potentially more toxic than anything seen here. Suffice to say that this is a film that is available to you to watch online, now, and if you've 15 or so minutes to find it and see it then it's probably worth your while. It's hard now to countenance the reaction of audiences who ducked to avoid an onscreen train, oncoming, with the casualness with which we confront a world encircled by streams of data. There are still points of inaccessibility, however, areas where it is not easy to see. As a window into one of these, My Deadly Beautiful City is worth looking through.
Reviewed on: 18 Mar 2017
Share this with others on...