Eye For Film >> Movies >> Mums On Fire (2016) Film Review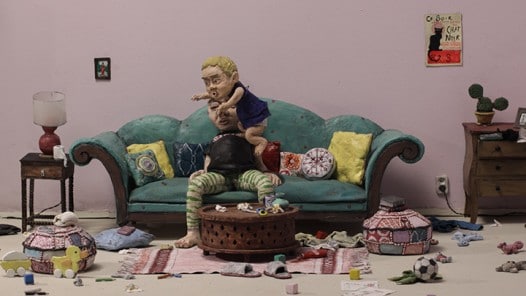 Who doesn't love a bit of claymation? It's always fun, and it's a great choice for this particular short because of its ability to convey the disgusting and the grotesque. The story - narrated in equally grotesque terms by one infant talking to another - follows two mothers a the very end of their pregnancies. They're hating every minute of it, lumbering around and unable to do anything they consider to be fun. What's more, they've both been there before, so they're under no illusions about what happens next making up for it. "The first few years are useless," remarks one.
A taboo-breaking tale of female bonding around sexual experimentation and contempt for boring boyfriends, Mums On Fire treats pregnancy as an unfortunate accident that just seems to keep happening no matter what its frustrated heroines do. At any rate, what they've done in the past hasn't helped. as they discuss it, their children crawl round on the floor, left to their own devices, scattering toys and random objects around them in a manner that every parent will be familiar with.

It's blackly comic and joyfully radical, with some very entertaining moments, but even at 13 minutes this film feels a little too long for its central idea. There simply isn't enough else there to round it out. Still, the animation is fun, and if you have 13 minutes to spare (perhaps between contractions) there are many worse ways you could spend them.
Reviewed on: 03 Aug 2018
Share this with others on...