Eye For Film >> Movies >> Mulberry St. (2010) Film Review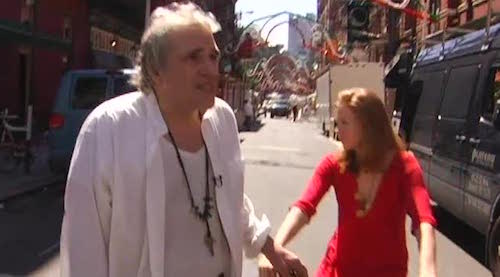 Driven sometimes by the simple need to make a living, sometimes by a clear desire to try a little bit of everything, Abel Ferrara has been nothing if not eclectic across the course of his nearly 50 year career. Mulberry St. was the third in a series of documentaries (and followed by two films inspired by real events, Welcome To New York and Pasolini). In making it, Ferrara was taking a walk not only through the neighbourhood where he began that career - and where he had returned to live a year before filming started - but through his career itself, with all its ups and downs and idiosyncracies. The result is every bit as colourful s yo might expects.
Something special was happening on Mulberry St. at the time of filming: the feast of San Gennaro. (As the patron saint of Naples, Gennaro provides a neat link back to the second film in the documentary trio, Napoli, Napoli, Napoli.) Ferrara notes that he didn't intend to focus too much on the festival when he began shooting, but it wormed its was in anyhow. Nevertheless, the film seems less a commemoration of an event and more a portrait of a community. Strolling along with his crew, Ferrara picks out particular people to interview but is just as often accosted by passers-by, most of whom seem to know him personally. He is also introduced to people's friends, including an aspiring actress who struggles to speak and is invited to stick out her tongue instead. She's one of few nervous participants as most of the locals exude confidence and Ferrara demonstrates a natural ability to put people at their ease.
Brilliantly edited but retaining a haphazardness that is a large part of its charm, Mulberry St. is rich and colourful and utterly immersive. The passion that its participants have for their community and the pleasure they take in praising one another make it a joy from start to finish. Most seem convinced that they are living in the best place in the world. there is also a lot of enthusiasm for Ferrara's work, which we see referenced in clips interspersed with the action; despite his internationally acclaimed art films, his early pornographic work seems to inspire the fondest memories.
Few films succeed in getting inside a community like this. Mulberry St. is a superb example of how the simplest subjects can sometimes lead to the best documentaries. By the end of it you will feel as if you know this place. Ferrara's love for it is infectious and as we see the things that inspire that love we learn a lot more about his work than direct discussion would ever be likely to reveal.
Reviewed on: 25 Nov 2016
Share this with others on...