Eye For Film >> Movies >> Mother's Milk (2011) Film Review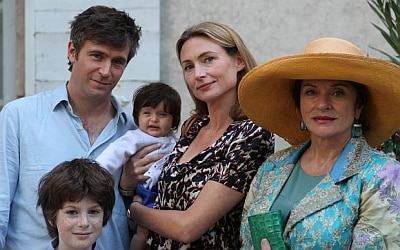 Alcoholism, terminal illness and adulterous relations are set against the gorgeous backdrop of Provence in this literary adaptation of Edward St Aubyn's novel of the same name.
Jack Davenport stars as Patrick Melrose, a forty-something husband, father and alcoholic. He's in the south of France both tending to his dying mother (Margaret Tyzack, in her final role) and trying to persuade her not to leave her estate to charity, but to him. He's there with his beautiful but passive wife Mary (Annabel Mullion) and his adventure-loving son Robert (Thomas Underhill). However, he's plagued by officious family friend Kettle (Diana Quick) and, more troublingly, the leader of a new age charity, and future inheritor of Mrs Melrose's money, Seamus (played by Adrian Dunbar). It's this last house guest, in particular, that leads to Patrick further hitting the bottle and straying into the arms of other women.

Director Gerry Fox attempts to tell this tale of woe from three different perspectives: Jack's, Mary's and Robert's. This results in a rather segmented narrative that jolts through a Provence summer with a multitude of onscreen captions to keep the audience anchored and, perhaps, interested. Even then, the result is less like Rashomon and more like an episode of Eastenders.
Before the story is out, there's a lot of sound but no real fury. The psychology of the characters gets more vague and unbelievable. Davenport shouts through the house and stumbles through streets, but we never get into his mind. Seamus, the spritual guru, is nothing but an irritating caricature.
Criminally, the least convincing character is potentially the most interesting. Mary Melrose, as the long-suffering wife, is never shown to give much thought to her husband's increasingly erratic behavior; neither is she shown to have any reason to be so distant. Perhaps she's used to it and has developed some defence mechanisms. We're never told, we don't see them. Perhaps the problem arises from the source material, a novel which is part-way through an ongoing series. But this film is no sequel; this is the first in St Aubyn's series to be filmed.
Out of all the performers, only Tyzack is compelling, especially for poignant reasons, as this is her final film. Davenport is a particular disappointment; he phones in his performance. He displays great sourness and bitterness but it's the same as we've seen in his role in the recent television show Smash. There's no spark from him here.
Despite its potential and emotive subject matter, Mother's Milk is an empty vessel of a literary adaptation; a distant and insubstantial exercise full of either under-developed or unbelievable characters who, after 90 minutes, you are glad to see the back of.
Reviewed on: 27 Sep 2012
Share this with others on...