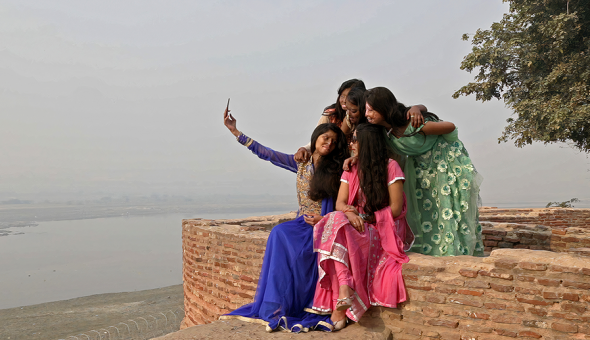 While some forms of violence are hidden, one of the most overt is surely the acid attack, which predominantly affects women and girls and frequently leaves victims with life-long, life-changing injuries that need reconstructive surgery, including scarring and blindness - the end result on show to the world and all too often treated as a mark of shame. The Acid Survivors Trust International estimates that the number of attacks in India alone exceeds 1000 a year. These are horrifying statistics, although you won't find them in this observational documentary from Siddhant Sarin and Debankon Singh Solanky, who keep their focus fully on a group of acid attack survivors, who gain strength and support from one another.
Rather than buying into societal stigma, Ritu Saini and Fahara Khan and their friends instead celebrate their lives, cheerfully posting pictures on social media and working at the Sheroes Hangout, which aims to increase awareness and empower those who have been attacked. Both women have significant facial scarring and, for Fahara, the impact has gone beyond the physical as the loss of one eye and her diminished sight in general mean that she can no longer work on the embroidery that used to attract clients not just domestically but from overseas. Beyond this, finding romance is also challenging given the prejudice that exists.

Solanky left the project quite early on, so it's mostly Sarin's camera we see here and it's evident he established a lot of trust with the women, who seem largely oblivious of his presence. The arc of the film isn't particularly defined, but this is a positive in some ways as the filmmakers aren't trying to 'force' any sort of triumph in adversity narrative, rather showing how the women are resilient from the start, defining themselves rather than being shaped by the opinions of others. Sound is employed interestingly, with traffic noise entering with a jolt on more than one occasion, a reminder, perhaps, of the lasting trauma after such an attack, with Ritu noting that she has to pass by the place where hers happened on a daily basis. A film that keeps its emphasis in the right place. without being pushy.
Reviewed on: 05 Apr 2022
Share this with others on...