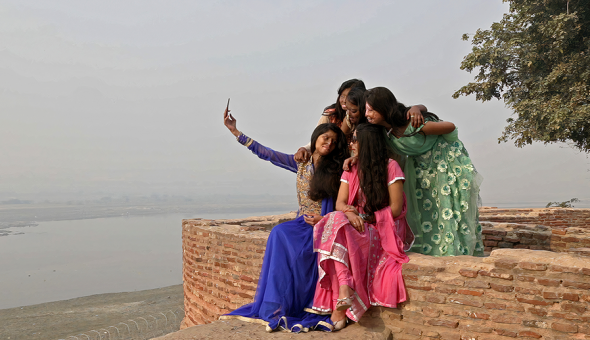 Siddhant Sarin: 'I didn't want to make a film that treated them like victims. The idea of victimisation is something which I wanted to go far away from'
Photo: Courtesy of Vilnius Film Festival
Acid attacks are a growing problem worldwide - and the Acid Survivors Trust International estimates that the real number of attacks in India alone exceeds 1000 a year, with many going unreported. Documentary
Mirror
, directed by first-time feature helmers Siddhant Sarin and Debankon Singh Solanky steps into the world of the Sheroes Hangout - a cafe and community in the country that is run by acid attack survivors. Taking an observational approach, the camera follows some of the women who work there, including Ritu Saini and Fahara Khan, over the course of five years, as they show resilience in the face of the life-changing violence they have suffered, support one another but also articulate the lasting trauma and impact they have been left with. The result offers an intimate insight into the lives of these women, that celebrates the women's achievements. I caught up with Sarin after the film's Lithuanian premiere at
Vilnius Film Festival
to talk about his approach to the project.
Tell me how you came to the story. I know that there's been issues about the increase in acid attacks in India in recent years. But I wonder, did you come to it from a kind of general perspective like that? Or did you come to it from the perspective of the Sheroes - of hearing about them?
Siddhant Sarin: So basically, I noticed some articles online, several social media posts, which were showing many acid attack survivors. But in all these photos and videos, they were smiling, ecstatic, they were laughing. For me, the two images didn't really match, because you know, in your head, when you think of acid attacks, you don't expect that they're always gonna be ecstatic. But this is what made me curious. So I went to Sheroes, and then I met with him further.
How was it when you met them? Because I mean, I imagine it's not so easy for a guy to go into that world. We can see some of the trauma in the film as well, although it's generally very celebratory. But clearly these things have a lasting impact.
Siddhant Sarin in Vilnius
Photo: Gediminas Grazys/Courtesy of Vilnius Film Festival
SS: 
No, it absolutely does have a lasting impact and that will never, ever completely diminish. When I went there, they're used to people coming in, taking quick interviews and leaving. So they're not used to someone coming and spending a lot of time with them. And that too, as a man, they welcomed me into their homes after their work in the night. And in small towns in India, usually girls don't invite guys over late in the night, like 11 or 12 o'clock, to sit and chat and things like this. But this became the norm. I did that for five years. So it became a very nice deep friendship.
Our relationship felt unique. And I think they realised that my approach towards them was a little bit different, because they're used to being directed, they're used to being told what to do. And that's something which I decided I would never do, even though I know that it makes the filmmaking process extremely complicated and long. But there was time. And I think that helped our relationship grow, which meant that they could open up about their feelings in a more free way.
You obviously decided to make a very observational documentary without adding things like facts and figures. At what point did you sort of decide that was the approach that you wanted to take?
SS: I didn't want to make a film that treated them like a victim. The idea of victimisation is something which I wanted to go far away from. So I didn't want to talk about facts, figures, numbers because I think people can check that on Google. So rather, I wanted a space where you can go into a psychological mind space, and where you can actually look beyond these scars, and you see them as humans.
You can also feel the power of them as a collective, I think comes across and the way that they're maybe helping the younger girl to sort of adjust to the way she is. What also comes across is the way that it hasn't just affected them physically, but also in terms of their jobs. For example, not being able to do embroidery any more?
SS:  When I first got to know about this, I was completely shocked. Because, you know, a person who loses their eyesight and who used to do embroidery is completely unbelievable. So just the fact she still has the desire to be inquisitive about it and dreaming, let's say, of going back, even though maybe the reality might be very far away, and might take many, many, many years for that kind of dream to come true, if it ever does. I think I thought that was such an amazing fact.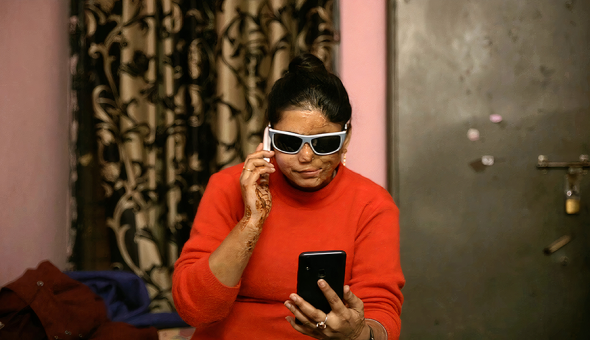 Faraha in Mirror. Siddhant Sarin: 'I think the deepest moments that I captured and that I was able to witness was when I was silent. I started to use that as a strategy'
Photo: Courtesy of Vilnius Film Festival
There's a lot of positivity. They approach things in a very positive way,  which I suppose in a way, they have to, because nobody wants to be a victim.
SS:  It's a means to survival. On a daily basis, imagine, if you go to a store, you go to market, you step out in the street, no matter where you go, any event, everyone is going to identify you by the scars on your face. So they are used to answering questions all the time, which means that on a daily basis, you have to motivate yourself.
Then that becomes a habit. And hence you start to see, I think my questions and my curiosity as to why these girls are always smiling got answered as well.
I was interested in how you used sound at key moments and I feel like you have like a sudden noise, like street traffic or a bit of a jolt. 
SS:  I wanted to build the idea of living in the city. So, the idea of what constructs you as a human being in a way so you are what your society makes of you. Through the subtle means I wanted to show the harsh and the jerky coexistence with our surroundings.
To me, it spoke to lingering trauma that they must suffer from in that very populated space. If something really terrible has happened to you in a place like that it must be quite hard to shake that off when you're walking down the street on your own at night.
SS:  I guess sometimes everyday living is also quite hard. Ritu also talks about it. She says that every time she leaves her house, and she goes to a train station, she has to pass by the same place where it happened, which is absolutely unthinkable for me, but it's real.
Because you were there for such a long time with them that must have really helped. Did you did you feel that as you were shooting it that you were maybe going to a deeper level with them?
SS:  Yeah, I think the deepest moments that I captured and that I was able to witness was when I was silent. I started to use that as a strategy. I stopped communicating, we stopped talking because I realised my questioning or my conversations are creating too much of an impact, or they are overthinking things too much.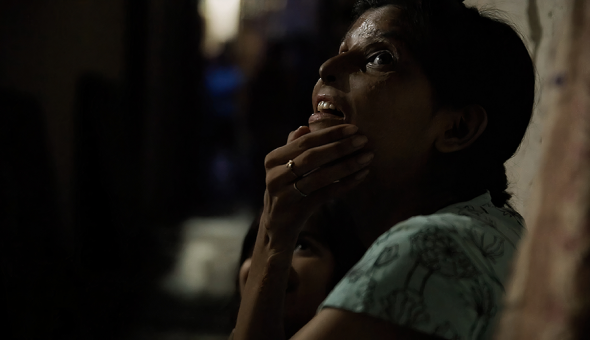 Ritu in Mirror. Siddhant Sarin: 'I wanted to build the idea of living in the city. So, the idea of what constructs you as a human being in a way so you are what your society makes of you'
Photo: Courtesy of Vilnius Film Festival
As soon as I became silent and used to sit in silence, silence for hours, that created a beautiful space between us. Eventually in that silence, they used to come out. I think they start talking to themselves in a way of self-reflection. Yeah. So I didn't have to ask questions any more. The questions were being asked in their own head.
You worked with a co-director on this, can you tell me about that?
SS: It was an interesting and productive process of brainstorming and ideation between the two of us in the initial years, though later on in the journey of teh film he got preoccupied with his Masters course and I concluded the film on my own.
How was it to suddenly find yourself on your own as opposed to in a partnership?
SS: It wasn't bad. Because when it becomes one, it's easier for me to be invisible. Now there is no need to interact and I could easily be a fly on the wall.
What are your plans going forward? Do you think you're going to do more documentaries in this style? Or what's the plans?
SS:  I'm studying in this course called Doc Nomads. Yeah, it takes place in Lisbon. Budapest, in Brussels. It's a Master's course, which will be concluded by next year, summer. And then in terms of style, I'm still exploring a few things but I want to go even more observational.
How do you find that sort of studying in more than one country? 
SS:  It's very challenging because we have to make three films every semester, three short films. It's a film factory. By the time I finish, I will have 12 films. But out of that, four are individual and the rest are group projects. It's a lot. But I think that kind of breaks your little inhibitions, your shyness, all of that. It all breaks when you have to do this kind of demanding course. And also the calibre that is around, the students are incredible, one better than the other. It's a unique course.
I suppose it's an opportunity as well, to try out different things. If you're doing so much work, you can try out different styles and approaches.
SS:  I'm already in the process of doing that. I'm trying experimental things more, like pushing myself to certain boundaries, which I haven't explored before. And seeing if my longer dream, or targets can be fulfilled, you know, I can already try some things out which I might want to do again, in the future.
I feel like it's quite a good time, though, for Indian documentaries in general. There's been some rising to prominence, like Writing With Fire and All That Breathes. Do you feel like it's maybe getting easier to make them in India?
SS:  Unfortunately, documentary filmmaking is still a very niche profession. And due to lack of funding in India, it's primarily dependent on funding from abroad. So the competition is still extremely hardcore. But I think that being in this particular position that I am in right now, like in this course, plus finishing my first film, yeah, enables me a little bit of a push forward, that I can, you know, experiment with my own form and my own decision making, and perhaps crack the industry better for the next projects.
Can you tell me anything about those?
SS:  For the next project. It's very nice. And it's very nascent. Let's say, it's going to be more towards environmental issues.
Share this with others on...