Starting with the production company's name in skateboards (rather than their poster friendly serif font), shot in 4:3 in a bleached LA that's caught in multi-millimetric amber, possessed of the same hues as shows about cars from when people started complaining that MTV didn't show music videos any more. A Los Angeles of skateboarders, fear of gangs rather than gangs themselves, immaculate collections of hats and Polo, skate and video-8.
Mid90s not only in tone, feel, nearly run-time. Somehow in that brief hour and a not quite half a meandering, an aimlessness in a very particular direction, a self-indulgence from writer-director Jonah Hill, and for all that, perhaps because of that, a still small triumph.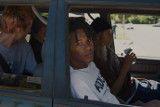 On Blockbuster night a brief moment of Goodfellas, and then, later, seeded, a stunning single shot, an instant party classic, a ritalin-railed track-led tracking, an immediate contender for my favourite shot of the film were it not for so many other lovely notes and moments - a change of angles on a mirror, a long slide on a long hill, an edit to the beat that's note perfect, one of a few montages (Team America fans take note) that feel right in a way I can just about express.
This is a début feature for Jonah Hill as director. Not Sunny Suljic's first turn in front of the camera, but a different tonal burden than the House With A Clock In Its Walls. Stevie is a troubled teen, put upon by himself, by circumstance, by choices he's not necessarily aware of making. This is astonishing stuff - as his older brother, Oscar-nominated Lucas Hedges seems to just about keep up in a cast that integrates so seamlessly that this feels like documentary, all kept together by a fierce naturalism of tone (and one assumes intent).
I say 'self-indulgent' because it's an easy critical crutch for something written/directed, for something that reaches for all sorts of bits of the filmic toolkit to say "I can do this" and that's unfair of me - I don't know what Hill is like behind the camera but I do know what his actors have achieved for him, what has been pulled together here. Katherine Waterston is almost exactly her character's age (even slightly older!) and though there's no Bechdel-pass and some pretty difficult consensual and statutory boundaries there are female characters with names and hopes. There is some edgy content - I was minded of Clark and Korine's Kids for just shy of 13 reasons - and it is on occasion difficult to watch. No less good for it though, no less brave.
Stevie falls in with a group of skateboarders, each perhaps patterns of masculinity, reactions to adolescence, collections of immaculate observation, performance. He's "at the age before guys become dicks" is Stevie, but he's got opportunity. Poor role-models, even at a Benihana birthday party, named for exclamations and catch-phrases, intellectual achievement, sandwiches (though not on purpose), the skate shop crew are in loco parentis - though as his mother Dabney (Waterston) observes his struggle there is grief aplenty. It might be projection to see a crown of thorns in a bloodied T-shirt. Filial violence has a place outwith Cain and Abel, there are forms of self-harm beyond brushes and cilice, but this is a second coming of age.
Age in that this is a period piece - one that had me craning my neck to determine if a game controller was a Dual Analog (1996ish) or a DualShock (1998ish) because it was the one detail that felt off in Jahmin Assa's production design. One. For sure the T-shirts were good but not too good, the music the kind of ridiculousness that comes from good contacts and good clearances. Bits by Philip Glass, score by Trent Reznor and Atticus Ross, a cameo from Del The Funky Homosapien, rap and rock classics, though never seeming to have the same credibility gap that affected Donnie Darko. Perhaps it will prove as difficult a début, but this is a different southland tale, putting the LA into adolescence.
It's hard to countenance that it's 85 minutes long. It's not that it drags - far from it, there's a lot happening, a lot to unpack - but that it wends its way so compactly, so much in a small space, like Suljic's performance, that it compels, transports, transforms.
Reviewed on: 20 Feb 2019
Share this with others on...