Eye For Film >> Movies >> Magic In The Moonlight (2014) Film Review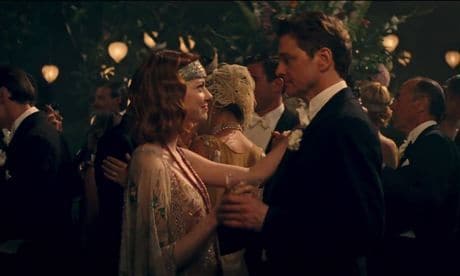 Magic In The Moonlight is Woody Allen's breezy summer night île flottante, cooked gently with a drizzle of caramel spiritualism on top.
The appeal is for the director to "do do that voodoo that you do so well," and he knows it. Audiences come to his movies with a top hat full of expectations, never sure if it will be a rabbit or a snapping turtle he is going to pull out. In this case, we start in1928 Berlin, on stage with an elephant, about to be made to disappear by world famous magician Wei Ling-soo who combines a wild array of Asiatica in his act. Stanley, who isn't actually Chinese, is played by Colin Firth as a disenchanted man who lives off enchanting others.
Firth, who has always been good at playing grumpy and self-centered as attractive, accomplishes a splendid balancing act - world-weary Stanley actually goes through a transformation while considering his relationship to God, not a girl. Or maybe both. Firth's nimble performance is funny and deep and light as sea foam. A pity he didn't also sing Cole Porter, I thought, but Firth told me at the première that I was the only one who wished for that.
"From the séance table to the Vatican - it's all fake," Stanley says to his childhood friend and fellow illusionist Howard Burkan (Simon McBurney) who visits him backstage and suggests a trip to the Côte d'Azur to help him debunk a fake clairvoyant. McBurney, founder and artistic director of Théâtre de Complicité, now named Complicite, who in 2003 directed The Elephant Vanishes, a play based on Haruki Murakami's short stories, is a good sparring partner for Firth.
"A pretty face never hurt a cheap swindler," the two friends agree, and because Stanley's aunt Vanessa (a poised and knowing Eileen Atkins) lives in Provence, he agrees to help his friend. Sophie Baker, the American with special powers, is played by Emma Stone in an oddly compelling mix of the young and the old-fashioned. The modulation of her voice places her 80 years in the future, the delicate costumes firmly into the present time of the movie, a juxtaposition that accomplishes precisely the otherworldly doubt in her powers, Allen intended us and Firth's Stanley to have about her.
She is accompanied by her mother (Marcia Gay Harden), who shares function and calculating personality with Rosemary Hoyt's mother out of F. Scott Fitzgerald's novel Tender Is the Night. Her girl should move up in the world, whatever it takes. Dick and Nicole Diver substitutes aren't difficult to spot in George (Jeremy Shamos) and Caroline (Erica Leerhsen), who themselves were inspired by Gerald and Sara Murphy; but Allen is not interested in any one to one literary references, as he was with Midnight In Paris.
The mood of his 1920s is Fitzgerald without the heartbreak. It is a safe place because it belongs to the past. Nostalgia is the foliage Magic In The Moonlight grows around a sunny reverie. Unlike in Blue Jasmine, Cate Blanchett's worries of dignified survival in an increasingly ugly world are not at stake here. The glamour, the charm of the landscape, the loveliness of it all, opens up the space to contemplate questions of a different caliber. If second sight turns out to be real, and more than a magic trick, does that mean, God exists?
"Tell me, why should it be you have the power to hypnotize me?" asks Cole Porter in You Do Something To Me written for his 1929 musical Fifty Million Frenchmen, which sets the mood during the opening credits. When the lights went down for the world premiere at The Paris Theatre last week, a very special festive hush descended over the star studded audience. Right before the screening, Allen told me that the original inspiration came from something he read about "fraudulent spiritualists," and that Houdini was a magical influence.
Stanley, disguised as a businessman called Taplinger (or sometimes variations of that name) tries to find out what Sophie's powers are all about. Jacki Weaver plays an impressionable Grace, matriarch, who hired Sophie to make contact with her dead husband to inquire about his fidelity. Looking as different from her Silver Linings Playbook mother character as it gets, Weaver's Grace doesn't seem to mind that her son Brice (Hamish Linklater) wants to marry the charming clairvoyant. Sprinkled throughout the movie, Linklater gets to croon 1920s love songs (Thou swell! Thou witty! Thou sweet! Thou grand! Wouldst kiss me pretty? Wouldst hold my hand?) to his flame with the verve resembling Peter Lawford's second fiddle charms in Easter Parade while competing with Fred Astaire for Judy Garland.
The oddness of the casting in Magic In The Moonlight and the overall tone of conversation indicate that this is not a love story. Allen couldn't care less about the chemistry between Firth and Stone. The topic of their age difference is like the elephant on stage during the first minutes of the movie. We all know it is there - Firth's Stanley even remarks how making an elephant vanish requires the same perfect lighting as Sophie's face. Even agreeable features are prettier at dusk.
He talks about "Mr. Nietzsche", they ride around the South of France in gorgeous cars, stop for local peaches on the roadside, and are stranded because of a thunderstorm in a magnificent deserted celestial observatory. He is a sealed vessel, she challenges his world view more than she sparks his desire.
Bits of dialogue have the bite of the Woody Allen of old. Reminiscing about Stanley's upbringing means calling him "the only child destined for hell" and arguing the existence of the supernatural makes sense because "the goldfish doesn't understand who is changing the water." In Blue Jasmine, Allen showed how (deliberately or not) out of touch he is with the present time with "computer courses" and dentist assistants who scribble appointments in big books by hand.
Magic In The Moonlight with the production design by Anne Seibel, is one of the most elegant films of the year. The cinematography by Darius Khondji holds the shimmering world in place. "What is so menacing about the universe?" Emma Stone questions with raspy voice that night in the abandoned planetarium. "The size," Firth responds and sounds for a moment like Allen's boyhood alter ego in Radio Days (1987). The ludicrous, and ultimately futile lure of a belief in the "power of prayer" links Stanley also to the character Allen played in Hannah And Her Sisters (1986) who samples a few religions in his quest for the meaning of life.
The costume design by Sonia Grande is spectacular. The embroidery, the knits, and the delicate chokers never scream period disguise - they whisper style instead. At the after party for the world premiere, Jacki Weaver told me about their authenticity, that they "were originals from the 1920s that were sourced in Paris."
On this tender ride into Woody Allen's favorite past, he plays the coachman, or the taxi driver, out of Midnight in Paris and we, if we would like that, become Owen Wilson's Gil for a spell and bathe in the beauty of a most splendid looking and sounding creation. Who stole my heart away? Who makes me dream all day?
A bit of foolishness and lace is a great gift to watch in the summer 100 years after the First World War began. The Lost Generation, undisturbed by the present, in a Woody Allen film, feels a bit as though The Purple Rose Of Cairo (1985) longings finally resolved themselves. That's one of the reasons why we travel into fiction in the first place.
Reviewed on: 21 Jul 2014
Share this with others on...