Eye For Film >> Movies >> Like Crazy (2011) Film Review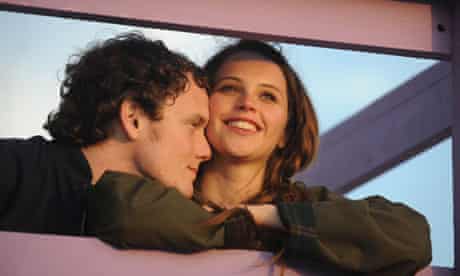 "What are we going to do when we leave?" asks Anna (Felicity Jones) near the beginning of Drake Doremus' Like Crazy.
"You mean permanently leave?" replies Jacob (Anton Yelchin), to which Anna quips, "Yeah, when we depart – from this planet."

It is a telling scene. On the one hand, it captures something of the initial goofiness of Anna, whose amatory overture to Jacob was a lengthy handwritten essay left on his car's windshield with the post script: "Please don't think I'm a nutcase." And if English Anna, studying journalism in LA, is a little bit crazy, soon design student Jacob also loves her "like crazy", even gifting her his first bespoke chair with those very words as its inscription.
On the other hand, note the way Anna's casual question about leaving snowballs rapidly into something more weighty, even eschatological. Indeed, this young couple's whirlwind romance, traced economically from meet-cute to meet-the-parents (Alex Kingston, Oliver Muirhead) within the space of only the film's first minutes, is about to turn into a far more serious exploration of time, distance and change, as a visa violation forces Anna back to London and away from Jacob, armed only with 'patience', and clinging ever more desperately to a trans-Atlantic relationship that is gradually losing its bearings.
Soon their love, previously expressed in handwritten notes and handcrafted artefacts, will be force-filtered through alienating digital text messages and phone calls snatched across rarely compatible time zones, while the demands of increasingly successful careers, the convenience of more readily available sexual partners and the inertia of everyday habits, will all get in the way of the couple's promised life together.
Yet these impediments – the ordinary clutter of lives lived apart - are not being used here as the conventional obstacles to an eventual happy ending, as they were in Nanette Burstein's Going The Distance. On the contrary, director Drake Doremus' script, co-written with Ben York Jones, dramatises how time destroys everything, and suggests that even the elements of syrupy wish fulfilment – reunion, marriage, children - typically associated with romantic comedy can come too late to have any value. This film, like Closer, 5x2 and Blue Valentine before it, skips and flips the conventional tropes of cinematic romance to focus instead upon passion's aching, anguished afterlife, when the magic chemistry has long since gone.
Here the three carefree, blissful summer months that Anna and Jacob spend in bed together are reduced to a fleeting montage. Here timelapse photography is used as a visual cue to the frozen suspense of Anna's life between seeing Jacob off at Heathrow and picking him up six months later. Here a perfect match cut unites otherwise dislocated scenes in which Anna walks out on Jacob in the kitchen of her London apartment after an argument, and walks back in to have breakfast with her new live-in lover Simon (Charlie Bewley).
Time does not so much play tricks as increase the distance between a couple who, even when they were together, we saw separated by the glass door of Anna's dormitory, or carefully framed by different sliding doors in the hotel where they were spending a farewell tryst. It is as though the end (of love, of happiness, of life) is already inscribed in the beginning – and even the intimate confines of a shared shower serve only to underline the gulf that has opened up between a couple who, in so doggedly pursuing a dream long past its due date, seem less blessed than condemned to a future together.
So while this elliptical, bleakly honest account of love's hangover years might not be ideal viewing on a first date, it offers plenty of uncomfortably familiar observations for anyone engaged in a relationship that is either long-distance, or just long-term.
Reviewed on: 09 Oct 2011
Share this with others on...