Eye For Film >> Movies >> Kia And Cosmos (2018) Film Review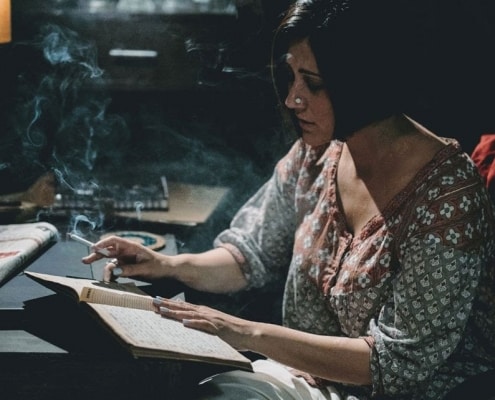 The publication of The Curous Incident Of The Dog In The Night-time in 2003 was a milestone in the representation of people on the autistic spectrum in popular literature, and did a lot to help break down social barriers. Yet whilst it was a big step forward to have an Aspie as narrator, there was always a risk that some readers would struggle to connect to the story as a result. Cinema makes it possible to combine an Aspie central character with a world we can see directly, giving us two different points of view through which to interpret events and interweaving the two very effectively.
Sudipto Roy's impressive début film is loosely based on Mark Haddon's book but relocates the action to Kolkata, where 15-year-old Kia (Ritwika Pal) lives with her parents Dia (Swastika Mukherjee) and Kabir (Joy Sengupta). One day Kabir disappears, an event that throws everything into turmoil and is still more disturbing because Kia also has to deal with another mystery: the murder of Cosmos the cat. Talking to neighbours, the man who pulls her rickshaw to and from school and the maths teacher who sees her as something of a star pupil, she gradually begins to amass clues, but the more she learns, the angrier Dia seems to become. Caught in a web of adult intrigue, she will ultimately take a decision that will change everybody's lives and put her in charge of her own destiny.
Pal is magnetic in the central role and communicates the social difficulties associated with her difference without any need for dedicated exposition. Although there is some direct narration, she has much more interesting things to focus on than herself. In a country where there is far less segregation of neurodiverse people and disabled people than in the UK, and where linguistic diversity means that it's often an advantage to persevere through communication difficulties, the strangers Kia meets are universally friendly and helpful. Despite the oppressive, even abusive atmosphere she endures at home with her exhausted mother, the overall tone of the film is upbeat. There's a world out there that will make room for her and she's gradually gaining the confidence to find her place in it.
There's plenty here for viewers from early adolescence upwards, with many layers to the story. Although it deals with some dark subject matter, especially from the perspective of a young person who is only just getting to grips with the way the world is, there's an incredible sweetness about the film and its bold heroine is easy to engage with. There's comedy of a sort in the clash between her rational interpretation of the world and the mess other people make of it, but it's always bounded by affection and the sense that there is nothing that can't be forgiven if one can just find a way to understand it. The film also has a political angle that explores the ease with which people can come to practice something at odds with what they preach, and the tension between loving a country and loving a family.
Sharply observed, intelligent and humane, Kia And Cosmos is a real treat.
Reviewed on: 22 Feb 2019
Share this with others on...