Eye For Film >> Movies >> Judex/Nuits Rouges (2008) Film Review

Judex/Nuits Rouges
Reviewed by: Keith Hennessey Brown
Eureka's two-disc Georges Franju set reveals the exploits of a masked hero and villain.
Read individual reviews of: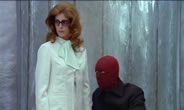 Judex - Tales of a master of disguise who is the self-appointed scourge of the underworld.
Nuits Rouges - A masked criminal goes in search of the treasure of the Knights Templar.
Reviewed on: 07 Sep 2008
Share this with others on...