Eye For Film >> Movies >> Judex/Nuits Rouges (2008) DVD Review

Judex/Nuits Rouges
Reviewed by: Keith Hennessey Brown
Read Keith Hennessey Brown's film review of Judex/Nuits Rouges
Eureka's two-disc Georges Franju set of Judex and Nuits Rouges meets the high standards we have come to expect from their Masters of Cinema series.
Both films look as good as they are going to get considering their vintage and, in the case of Nuits rouges, production history, with nice original aspect ratio transfers. Sound on each disc is clear if unspectacular while the optional English subtitles are clear and easy to read.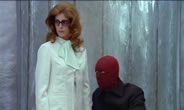 As far as extras go the discs features short but informative interviews with Franju's collaborator Jacques Champreux and a typically substantial booklet containing essays and commentary on the films by various contributors, including translations of pieces by Jacques Rivette, Georges Sadoul and Franju himself, wherein he expresses his distaste for the character of Judex.
Reviewed on: 07 Sep 2008
Share this with others on...