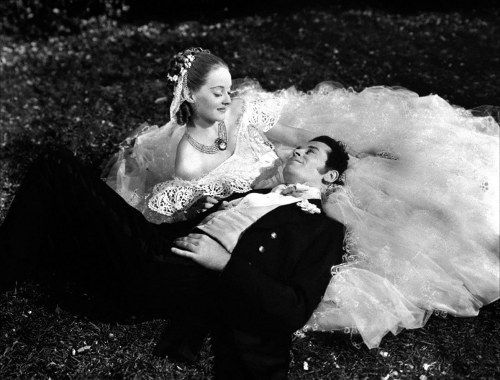 To an outsider, the phenomenon of the Southern belle is difficult to understand. It represents Western notions of femininity taken to such an absurd extreme that it's difficult to perceive as anything but cartoonish - and yet Bette Davis, inhabiting the frilly frame of such a woman, here brings it to life in a performance which is at once criticism and celebration. She is Julie, a young woman whose fierce desire for control of her own life and her own sexuality is drastically at odds with the social expectations which hem her in. Frustrated, she lashes out at her adoring fiance, played by a rather mawkish Henry Fonda, then goes all out to try and win him back.
Jezebel represents the first truly successful pairing of Davis and director William Wyler, whom she was falling in love with at the time, and their chemistry brings this otherwise over-familiar film to life. Not only does the camera love the way she looks and moves, but it gives full reign to her natural, unladylike passion. Equally desperate for love and freedom, her Julie is a creature trapped on the verge of destruction. Her red dress makes a loud statement even in the florid world around her, where yellow fever is becoming a raging epidemic. With death an ever-present, albeit hesitant guest, she seems determined to live enough for everyone.

The trouble with this film is that Davis' colourful central performance leaves everyone else looking slightly anaemic. The capable Fonda can still seem forceful and self-assured when arguing with her, but he lacks the kind of charisma which might make her passion for him properly believable. One gets the feeling that, despite her protestations of love, she's simply settling for what she can get, and this makes the romance as a presumed driving force in the film rather unsteady.
Jezebel is a great film for Davis fans and for those who enjoy the sub-genre of smouldering Southern melodrama, but if that's not your cup of tea then you may find those histrionics difficult to give a damn about.
Reviewed on: 26 Jan 2008
Share this with others on...