Eye For Film >> Movies >> Intelligent Lives (2018) Film Review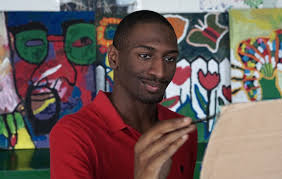 "It's time for you to do math," Kevauna is told.
"No," she says firmly. "No. No." And one can't help but think that this kid is, in her own way, quite smart.

Intelligent Lives is a documentary about the lives of those children whose intellectual prospects are written off in infancy. It's narrated by actor Chris Cooper, whose son, Jesse Lanier Cooper, was born prematurely and suffered from cerebral palsy but, thanks to the determination of his parents to give him all the help they could, not only learned to speak, read and write but went on to become an honours student. The younger Cooper became a strong advocate for his own rights and those of others who never get that chance. This film gives viewers the chance to get to know intellectually disabled people and understand what's at stake.
There are a lot of issues to explore here. As an outsider, I found it astonishing to learn that the US still uses IQ tests, massively deprecated though they are, to determine the way children are classified and educated. Cooper needs just five minutes to illustrate how poorly designed the questions are, especially for physically disabled children, and how clearly they are geared towards white kids from upper middle class backgrounds. The massively disproportionate labelling of black kids as intellectually disabled is immediately apparent. Director Dan Habib doesn't linger on the race issue but he doesn't need to. When we meet Naieer, a young man with some artistic talent whose disability impacts his social skills but isn't immediately visible, it's immediately obvious what his parents' fears will be - that being young and black and acting strangely in a public place could easily lead to him getting shot dead by the police. The impact of intersectional prejudice is rarely so stark.
Naieer's parents, like the others we meet here, have had to fight hard for their children to get a proper education. We hear stories of kids who weren't that lucky, or who spent time in so-called schools that were little more than factories, 'teaching' them to sew or make jewellery and then selling their work with no recompense. It's easier to talk about what happened in the past than to uncover the exploitation that may continue in the present, so Habib gives us a potted tour of America's ugly history where kids with a wide range of disabilities were concerned: persuading their parents to give them up, shutting them away in institutions where they often faced multiple forms of abuse and neglect.
Importantly, this is more than just another exposé. It's through meeting the young people who have had support that we see what's possible and why investing in the intellectually disabled matters. We follow Micah as he tentatively embarks on a relationship with a young woman in the same situation and as he discusses his ambitions with his friends. We meet Naomie, who is studying in beauty school and dreams of having a job, not in an institution but out in the real world, earning her own money, experiencing a degree of real independence.
This is a very personal film but its focus on individuals will doubtless help it get through to people who wouldn't give the subject much thought otherwise. Whilst it would have been interesting to see something on the economic potential of this untapped resource - there are 6.5 million people in the US with intellectual disabilities, more than the entire population of Scotland - what is at stake is, first and foremost, a human rights issue. Habib's achievement here is to break down the barriers that stop other people from recognising those with intellectual disabilities as human. That is no small thing.
Reviewed on: 17 Sep 2018
Share this with others on...