Eye For Film >> Movies >> How to Get Ahead In Advertising (1989) Film Review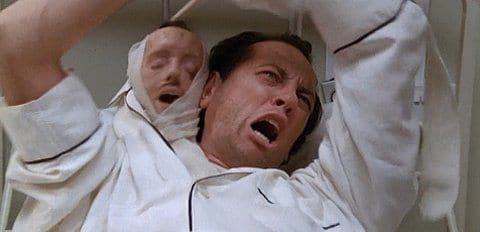 After the phenomenon that was Withnail And I, the world was eager to see what young director Bruce Robinson would do next, and news of his re-teaming with Richard E Grant got filmgoers very excited. It was probably inevitable that his difficult second film would disappoint - nobody manages to go on holiday by mistake twice - but the critical response at the time to How To Get Ahead In Advertising was unfairly negative. Whilst it feels much more like a debut than its predecessor - it's overly dogmatic, it's self-indulgent and it suffers from pacing problems - it deserves credit for it's bold attempt to do something different, and there are moments within it that are nothing short of sublime.
Grant plays Denis Dimbleby Bagley, an advertising executive on the fast track in full-on Eighties yuppie mode. He's made an impression with his work in the past, but at what price? Something seems to be gnawing at his soul. When he's instructed to market boil cream - which, we are informed in passing, is a completely ineffective product - he suffers a nervous breakdown from the Blackadder school of How To Go Insane, experiencing a series of manic episodes which might reflect the then hotly anticipated death throes of capitalism. Capitalism, however, retains more of a grip than he anticipated, and he grows a boil of his own on his shoulder. So far, so unlucky. Then the boil grows a face and begins to talk.
Robinson makes careful use of movement and perspective to keep us guessing whether the boil is real or a product of Bagley's disordered imagination. The aggressive way it chips away at his self esteem is reminiscent of the inner dialogues experienced by many people with anxiety disorders. Gradually the playful satire gives way to something much darker. Although the film loses its footing somewhat towards the end, the subtler comedy of the first half replaced with a series of entertaining but rather hollow rants, this change in tone echoes the difficulty faced by many critics of consumer culture at the time - on the one hand, there was a great deal to laugh at, but on the other, it was no laughing matter.
Grant's performance matches this shift perfectly. He handles the slapstick and high farce well (though it won't be everybody's cup of tea), but it is only in the latter stages that he reminds us of his range as an actor, building up to a tremendous final speech that places everything that has gone before in a different light. Although there is strong support from Rachel Ward as his harried wife, it's his performance on which the film hinges, and it's he who delivers a eulogy for the decade that gave birth to capitalism as we know it today.
How To Get Ahead In Advertising is very much rooted in its time and has not aged particularly well, but in retrospect its bleak vision seems all the more pertinent and its black comedy has lost none of its joy.
Reviewed on: 20 Jun 2017
Share this with others on...