Eye For Film >> Movies >> Her Violet Kiss (2021) Film Review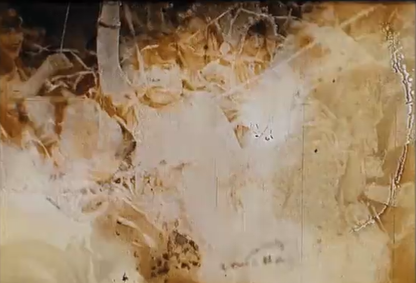 Film aged, not just by costume but literally so, the distortion of celluloid made cellural, the camera's capture cancerously concealed. They smile and dance in their costumes, the strings swell beneath them while sepia bleeds deeper into detail like the flicker of vibrato. The cello, fain to provide its depth to aural texture is matched by the flickering of the chaos.
She tries to cross the party as he watches and waits. A masque perhaps, but the revelries are lost in what becomes reverie. The band plays while the images pass, marked with the passage of time. There is a sense of story
Bill Morrison's film is drawn from Pawns Of Passion (1928), rescored by Michael Montes. It is something hypnotic, restored, revelatory. There's a hint of The Masque Of The Read Death, but it's one born of its current context.
"A lot of the time [he's] looking through trash." He talked about his "unique" relationship with a manager at the Library of Congress where material has developed nitrate faults too "profound" to store on pristine shelves. He was able to scan this nitrate print of what is otherwise a lost film. It was known also as Liebesholle, "love's hell". Directed by Wiktor Bieganski and Carmine Gallone starring the Russian darling of German cinema Olga Tschechowa, its scenes of a party from 1928 sparked thoughts about pandemic, the risks thereof, and the impact of history. Found ten years ago or so, and as such scanned only in HD, he'd used a reel of it for another project. Hearing a track by Montes that struck him, it "had grown on [him]", "times had changed", it was now (at multiple removes" "of the moment".
Morrison talked about his work and "actively handling nitrate", even though not involved in restoration he comes to investigate reels that are due to be collected by "hazardous materials". The ingredients of these old reels include camphor as an elasticiser, off-gassing towards brittleness and then becoming more flammable. "it smells really bad" and with the dust and its explosive risks the "wrestling" with the material, its specialised handling in Culpepper Virginia recalls other toxicities, more biological or radioactive than cultural. These infrastructural processes are such that one can believe him when he says it "isn't that complex" because he "sends it to someone else".
Montes had done much the same, approaching him with a piece of music and asking what would go with it. Morrison talked about commissioning music to fit cues or a silent cut "where [he] wanted music written", but also historic work where he was making films to fit to musical performances. He talked about his work Decasia being the point at which that flipped, but "close collaboration with a composer" is a key part of his work. So too the sense of the experimental, an absence in which an audience can create story. Asked what he would use he said that he was at a disadvantage as he knew the plot of the original, but to talk about what he considers to have been anthropomorphised and how would be to deny you the chance to form a theory yourself. It's impossible to spoil a plot that does not exist but it's easy to destroy a view. Though it is constructed about a ruin this is an unburied treasure, not a folly.
Reviewed on: 26 Mar 2022
Share this with others on...