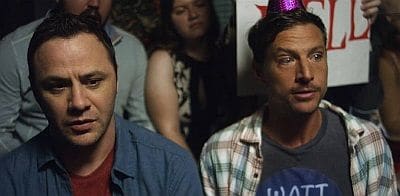 Weed movies: they don't make 'em like they used to. Long after Cheech and Chong sailed into the sunset, the genre continues to stagger on, but with this latest entry it's clearly at the stage of raking the carpet for whatever crumbs may remain. it's not so much that it's lost the plot as that it has decided to find one - and lost sight of the fact that it was structural anarchy and wayward storytelling that made the classics work.
Combining marijuana movie and Halloween horror must have seemed like a great idea when somebody was really high. Throw in a couple of cheeky chappies to lead the action and you're golden, right? So we meet best buddies Trent (Shannon Brown) and Joey (Simon Rex). The film opens with them going to watch Trent's father, a self-confessed serial killer, face death in the electric chair. After a few jokes about penises and a lot of random shrieking, they decide to skip town so Trent doesn't have to deal with the fallout, and wash up in a place called Mooseheart. Unfortunately for them, a masked serial killer starts preying on locals just around the same time, so when people find out who Trent's father was, he finds himself number one on the suspect list.

There's the potential for tension here, but director LazRael Lison squanders it with the kind of limp comedy antics that suggests our ostensible heroes don't care - why, then, should we? Brown, whose resume boasts of a range which others might interpret as a lack of discretion, makes a flaccid lead, failing to convince even in his romance of town sweetheart Madison (Michelle Mueller). In this, he must face off against political hopeful Connor (Jayson Bernard), who is trying hard to be Rob Lowe's character from Wayne's World but can't even succeed at sleaze. Rex is slightly better but appreciating his character and the humour built around it depends on familiarity with his background in gay porn, so most viewers are likely to be left clueless as to what's going on. Both leads flounder around with low level racist and misogynistic lines that were probably intended to be daring but are in fact more likely to cause offence just because they're so badly written.
Appearances from Ray Wise and Danny Trejo ought to be worth something, but both are so brief that you could blink and miss them, and they're woefully underwritten, slighter than the celebrity cameos in Sharknado 3. The horror aspect of the film delivers nothing in the way of shocks or scares, so we're basically left to watch a group of am-dram dropouts squawk at each other for an hour and a half about nothing. Proportionate to the film's running time, there isn't even much drug use. Whilst it might be fair to say that all films in this genre are intended to be viewed when one is under the influence, the only way you'll make this film bearable is to smoke so much that you pass out.
Reviewed on: 12 Oct 2016
Share this with others on...