Eye For Film >> Movies >> Girl Unbound: The War To Be Her (2016) Film Review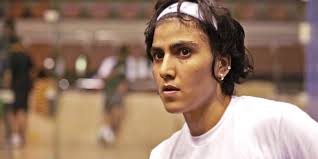 Everyone knows it takes dedication to become a sporting champion but Maria Toorpakai's path to the upper levels of squash required both steel will and an ability to shrug off fear. That's because Toorpakai was born in the Waziristan – one of Pakistan's federally administrated Tribal Areas and a Taliban stronghold.
"I want to tell girls fear is taught, but you are born free and brave," says Toorpakai. There's no doubt the Taliban seek to school women in anxiety and obedience, forbidding women to take part in pastimes such as singing, dancing and sports. "I broke all the laws," she adds, "God help me."
Erin Heidenreich's debut film – which screens at this year's London Human Rights Watch Film Festival – doesn't just seek to profile Toorpakai, although she is the main focus of the documentary and her progress in tournaments helps to lend it structure. Heidenreich – who has worked for years in the industry, first as a sales agent and then as a documentary producer – broadens out her scope, however, to give a snapshot of the wider issues affecting the population in the Tribal Areas and the importance of education and family. At an early age Toorpakai had a passion for sports, joining in the rough and tumble with her brothers to such an extent that she burned her dresses at the age of four. Blessed with a supportive father – whose own story of resistance and education is revealed through the course of the film – she started dressing as a boy and, in this guise, found herself able to progress in sports at school level, finally discovering a love for squash. As she began to hit her teens, however, her gender became more apparent and, by 16, she had received her first death threat, which resulted in her having to retreat from the sport.
In a move that is one of many demonstrating her resilience, she refused to be beaten and began sending emails to those she felt could help, eventually securing the backing of former world champion Jonathan Power in Canada, where she now lives for part of the time. Heidenreich captures the different type of toughness needed to live such a long way from your family and familiar culture before travelling back to Pakistan with Toorpakai to spend time with her and her family – a move which carries risk for both subject and filmmaker. There, she captures the genuine sense of threat that the family is under, although the scoring from Qasim Naqvi is laid on a bit thick.
Heidenreich's shooting is economical and the editing tight, so that squash games are included to show Toorpakai's abilities on the court and the support for her off it, without getting in the way of the bigger issues surrounding equal rights. On that score, the only odd thing is the film's use of "girl" in the title, the diminutive seems wrong and undermines the maturity of Toorpakai's story.
The word "inspirational" is often used lightly but Toorpakai's success, alongside that of her politician sister Ayesha Gulalai, are shown to have had a distinct effect on communities, with many naming their daughters after them. Several girls seen progressing at squash also cite Toorpakai as a role model. Gender identity issues beyond straightforward male and female alignment are also touched on here, with Toorpakai saying she feels neither "like a guy or a girl psychologically" – a situation that the player says she is taking her time to work through. Some might wish for deeper questioning here but her family and the film sensibly take this in their stride this as just another aspect of her character, not as something that needs to be skewered to a board or made into a talking point. "The only way to not feel weaker is to work harder," says Toorpakai – good advice whatever your gender identification.
Reviewed on: 08 Mar 2017
Share this with others on...