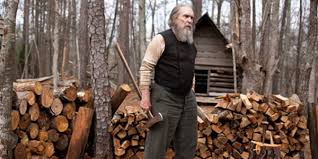 Settling in to the plot of Get Low is a bit like snuggling in to a Southern good ol' boy's bearhug, as it has the sort of comforting familiarity you might usually associate with a fleecy but slightly beaten up lumberjack shirt, the smell of a favourite tobacco or a slice of mom's peacan pie. And it comes as little surprise to learn that Aaron Schneider's tale of secrets, sorrow and redemption has its roots in the real Tennessee story of pioneer and recluse Felix "Bush" Breazeale, who back in the 1930s decided to stage his own funeral, so he could be on hand to witness it - and went so far as to sell lottery tickets for some of his land to ensure an attendance.
Renamed Felix Bush in this incarnation, he is played by Robert Duvall, who proves, yet again, that age only serves to improve his acting prowess and screen presence. And it is here that liberties begin to be taken with the original story, as we come to learn just how Felix became a hermit in the first place and why he wishes to atone before he leaves this life for the next.

Of course, he can't organise such a huge knee's up alone, so he enlists the help of liquor-loving, skint and cynical Frank Quinn (Bill Murray) - who happens to own the local funeral home and who sees the chance to make a quick buck courtesy of the raffle for Felix's land. So it is that the unlikely triumvirate of Frank, Felix and Frank's hardworking and soft-hearted employee Buddy (Lucas Black, whose character feels like a grown up version of American Gothic's Caleb Temple), set about putting wheels in motion. But anyone thinking a funeral party is a simple affair to get off the ground are set to be proved dead wrong.
The film looks beautiful thanks, no doubt, to director Aaron Schneider's history as a cinematographer coupled with some sterling work by David Boyd, while the period detail is spot on in an understated way that lends it all the more realism. There is also plenty of enjoyment to be had from the scripting from Chris Provenenzano (Mad Men) and C Gaby Mitchell (Blood Diamond). They find some laugh out loud dry humour in the contrast between Felix's curmudgeonly attitude to the world and everything in it and Frank's poker-faced responses, but also a surprising amount of emotional poignancy between Felix and his former girlfriend Mattie (Sissy Spacek), who offers a window into his past.
Although this is worth watching purely for Duvall's superb turn, he doesn't want for support. Murray puts in yet another one of those perfomances that leave you wondering how he manages to inspire laughter and pathos simultaneously, while Spacek is at her luminous best.
It's only a shame that the ending proves too cosy for its own good. By the time we get there, although the ride has been enjoyable, the conclusion feels less like a hearty resolution and much more like the dessert we've been waiting to arrive for just a little too long and that is just a bit too sweet to be completely satisfying. But despite its faltering final steps, this is still a fine looking, entertaining and beautifully acted fable.
Reviewed on: 16 Jan 2010
Share this with others on...