Eye For Film >> Movies >> The Female Teachers Of The Republic (2013) Film Review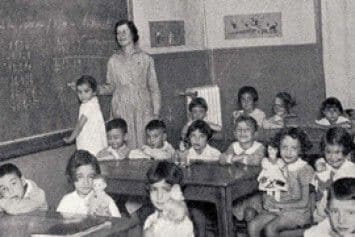 The winner of the Best Documentary category at this year's Goya Awards, The Female Teachers Of The Republic (Las Maestras De La República) focuses on the role of women in advancing public and democratic access to education during the Spanish Second Republic (1931-1939), before the Civil War (1936-1939) and subsequent dictatorship put paid to the pioneering ideas they had been putting into practice.
As another recent Spanish documentary - Barefoot And In The Kitchen (Diego Galán, 2013) - has also illustrated, the 1920s and early 1930s were a time of opportunity for women in Spain, as small but significant advances were made in terms of their rights in society. The founding of 'residencias de señoritas' (a kind of female-only guesthouse) allowed young women a measure of previously unthought-of independence, as they were able to live away from home - in what was regarded as a safe and socially-acceptable environment - in order to study. In parallel, a prime concern of the Republican government was to raise the standard of public education, which led to teaching becoming a profession with university-level training - this presented an opportunity for educated women who, in the spirit of equality, were trained alongside their male peers for the first time.
These women became embodiments of the socialist ideals of a free, public, and secular - education had until this point been the responsibility of the Church - education system that was based in the principles of solidarity and equality for all. That is not say that Spanish society - notoriously macho - changed overnight, but in being sent (on their own) into rural communities with traditional views of women and their role in society, the teachers actively challenged those limited views and perceptions of what was possible for a woman.
Obviously this combination of characteristics - autonomous and intelligent women who embodied the socialist principles of the Republic, who saw maternity as a possibility rather than an obligation, who were among the founders of the teaching unions, and who worked within a secular system - made them a threat to the conservative values of the Franco regime after the Civil War. Some went into exile but the majority stayed - most were forced out of teaching, either via suspensions due to spurious accusations of immoral behaviour or because they were imprisoned following formal denouncements to the authorities. Some were executed as the result of the latter, others found themselves released back into the communities that had denounced them with nowhere else to go.
The documentary employs archival footage (still photographs and newsreel footage) but mainly relies on talking heads in the form of social historians researching those stories that have largely been obscured or written out of history - history is written by the victors, after all. There are some eyewitness accounts - most movingly from the now-adult daughter of two teachers who were both denounced and executed - but the length of time that has lapsed means that the women themselves are no longer around to give their own accounts.This makes for a rather dry - and sometimes ponderous (with some intrusively heavy-handed piano music) - telling of what is nonetheless a fascinating story.
Reviewed on: 22 Sep 2014
Share this with others on...