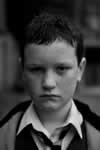 Flung
Reviewed by: Andrew Robertson
In short films its the smaller craft elements that make good films great, that allow clever ideas to flourish in tight constraints. Flung is well-made, well-played, and well worth watching.
Grant Gillen is convincing as a boy, bullied, who happens across a man (Sean Scanlon) and decides to have some fun with him. This is a touching film, with two convincing and subtle performances. In crisply shot black and white, with good use of sound, even the title is well integrated. Fiona Walton's direction is confident and on this evidence deserves further opportunities to flourish.
Reviewed on: 27 Aug 2007
Share this with others on...