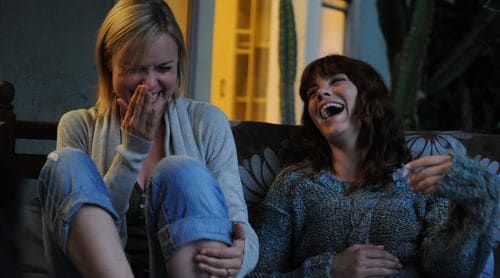 Michelle Monaghan and Radha Mitchell, two underrated actresses who deserve more leading roles and decent scripts, make the most of the former in this uneven comedy. It's nicely dressed, nicely lit, nicely shot, and completely empty of both wit and observation.
In a debut feature, little things can be forgiven, but it's difficult to understand why someone would go to the trouble of making a first film that says so little. One can only assume that things looked different to writer/director Jessie McCormack, and put this mess down to naivety. It's visible in the plot, which feels painfully under-researched, and in the apparent failure to run the jokes past anyone outside the production team before deciding they were funny. The chemistry between the actors here suggests that they did have fun making it, but there's a blindness that can develop in such situations, even for those who have much more idea what they're doing to begin with.

Monaghan plays Andie, a young woman who finds herself pregnant after a one night stand. Mitchell is her best friend Lizzie, whom we are told has been through three cycles of IVF (though there's little sign of it either psychologically or physically) with restless, irritable partner Peter (Dore). Troubled by the thought of having an abortion when her friend cannot conceive, Andie decides to move in with Lizzie, with the intention of giving her the baby. To complicate matters, Peter also has ex-junkie Casey (Michael Weston) wandering in and out of the house. Meanwhile, Mimi Kennedy's sarcastic therapist snipes from the sidelines.
The sniping is lazy. The idea that anybody could think of an arrangement like this as feasible is repeatedly mocked, despite the fact that in real life it's actually quite common, especially within the gay scene where having babies is inevitably more complicated. That it might not work for these people has more to do with the fact they're all self-centered, habitually fickle and a bit dim. There's nothing inherently wrong with that - it can make for interesting drama - but if we can't actually like characters then we do need to be able to find them entertaining, and in a story with no surprises, that's difficult to do. Despite the Boho chic decor, Monaghan's habitual quirkiness and the fact that nobody seems to do anything except have emotional crises, it's played remarkably straight. Mitchell might actually work better if she were less capable; her evocation of loss is convincing enough to derail attempts at lightheartedness, and there's nothing to balance it out.
To complement all this, the film has one of those wistful, breathy, tinkly piano soundtracks that scream 21st century American indie and are becoming almost as annoying as the over-earnest efforts they inhabit. It rescues this from TV-movie status but ensures it will date horribly. If you are into that kind of thing, however - and if you have the right mix of studious liberal sensibilities and super-shockable conservative attitudes to sex - you might still find something here that appeals.
Reviewed on: 03 Jan 2014
Share this with others on...