Eye For Film >> Movies >> Electric Faces (2015) Film Review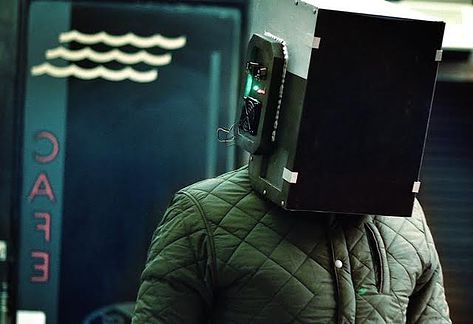 Presenting the future in a short film isn't easy. With just 10 minutes to tell a story, scene setting must be sharp and to the point and writer/director Johnny Herbin rises to the challenge in Electric Faces. Helped by an excellent visual effects team (Nicole Anderson and David Rey) and tight editing from Chris Quick, he uses a brief skyscape to set the tone for this Glasgow-set noir-inflected heist, building on it with a steampunk aesthetic. Admittedly, he is also likely to be aided by a Blade Runner-familiar audience - but when you're on a budget, it makes sense to use expectations to your advantage.
Tom (Euan Bennett) has dreams of a future but also memories of a past, when he was "on the blue for a bit too long". The drug has left the skin on his hands tainted, marking him out to others, making it hard for him to reintegrate. He has a plan and it's not a good one as his old friend Lucas (John Gaffney) points out, so he decides instead to rely on his humanoid robot Hugh (physique Calum Mackaskill, Rasmus Kull on vocals) as his partner in crime when he sets out to rip off a banker (George McWilliam).

The only problem is that Hugh - with his old-school monitor for a head - is very much the ZX81 of robots, which could make things tricky. Hugh is also an object lesson in how to overcome a tight budget - if you can't afford to make something look sleek, then make sure something makeshift slots perfectly into your story.
Herbin - supported by excellent DoP work from Darren Eggenschwiler - creates a mean and moody atmosphere and displays a flair for humour, using it to make things more believable and as a buttress to build tension against. The romance flashbacks are the weakest element, and though there's no doubting their economy, the film would work as well without them. The here and now is where it's at, and Herbin makes good use of his bar and diner settings, choosing shot selections that shift the viewpoint and stop the action from feeling static. The cast is solid but Herbin's big achievement is constructing an environnment and story that are at once satisfyingly complete and leave you wanting more. If he can achieve all this on a small budget, it's about time someone gave him a bigger one to play with.
Reviewed on: 31 May 2016
Share this with others on...