Eye For Film >> Movies >> Edge Of Winter (2016) Film Review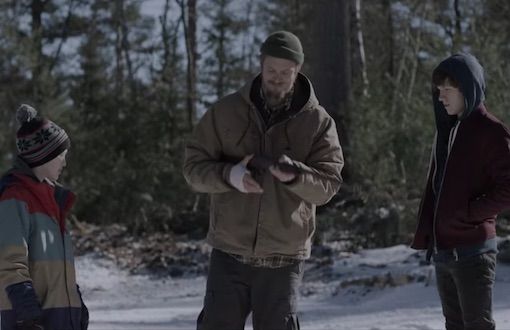 Elliot (Joel Kinnaman) was young when he got married, he says. His boys came along quickly and he didn't know how to be a father. That was why he left. But things are good now. He's grown up, he's learned. He's watched the boys grow up, and he's ready to help them become men.
Elliot and ex-wife Karen are on good terms - at least good enough that, when she goes on holiday with new husband Ted, she's comfortable leaving the boys with their father. She becomes less comfortable when oldest son Bradley (Tom Holland) calls to tell her that they're en route out into the snowy wilderness on a hunting trip. But it's when younger brother Caleb (Percy Hynes White) lets slip that Karen and Ted are planning to move the family to London that things really go awry.

There's nothing particularly original about this story of an adult breaking down in the middle of nowhere, forcing children to grow up fast, but it's well told, with strong performances. Kinnaman has the most challenging job, evoking the kind of anguish that the boys are too young to understand and winning audience sympathy whilst speaking entirely in the language of I and me and mine. Elliot is unstable, perhaps dangerous, and the boys gradually become afraid of him - but they are also dependent on him in this unfamiliar place, and his sometime warmth and playfulness are attractive, as is the prospect of being trusted with activities that were previously the exclusive preserve of adults. It takes them a while to understand that Elliot might not be as wise about the world as he pretends. In fact, his survival skills are rudimentary at best. He is a man who could be dangerous by accident.
Though Kinnaman works hard in the role and does convince, it's the teenage Holland who steals the show. A standout in The Impossible as a child and now destined for stardom as the new Spider-man, he brings together elements of fragile boy, resentful adolescent and anxious proto-adult to create a character whom almost anyone can identify with even when he's not being very likeable. Bradley's feelings of responsibility for his brother force him to develop a new assertiveness, but he's physically no match for Elliot, as early scenes that straddle the line between play and bullying make clear. With the environment set against them too, and with debut director Connolly signalling early on that he's not the sentimental type, the tension rises as we wonder whether anyone is going to get out of this alive.
The landscape is very much a character in this film with Elliot's secrecy and incompetence forcing the boys to get to know it for themselves. Connolly makes good use of the shortened perspective created by pine forest but sadly fails to develop the potential of an initially well-used open space, and the lighting in nighttime scenes doesn't really convince. Nevertheless, this is a very watchable film which marks out Holland as a young actor likely to go far.
Reviewed on: 09 Aug 2016
Share this with others on...