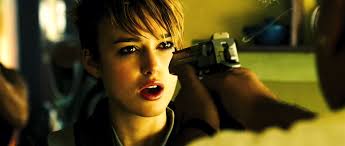 I am not a bounty hunter. Neither are you, I suspect. So, the majority of the audience will watch Domino with little prior knowledge of what a bounty hunter does. According to this film, it is not uncommon for them to cavort under the desert sun after a life threatening car crash and lap dancing gang members to avoid getting shot.
When Tony Scott added the "sort of" to the opening statement that this is "based on a true story", he was not fooling around. Domino's realism is almost as hazy as the diluted greens used to shoot the film. Yet, his aim has not been to make a believable action picture, merely to make a stylish, involving and darkly funny one. On the whole, he fails.

Domino begins and ends with Domino Harvey (Keira Knightley) being interviewed by FBI Agent Miles (Lucy Liu). Throughout, Harvey's voice-over leads the audience through a maze of overlapping plots: her life story, stolen money, Mafia hits, reality television and so on. Screenwriter Richard Kelly, of Donnie Darko fame, has an unlimited arsenal of distractions to weave some depth into this superficial assault on the senses. Scott, too, uses his trademark six camera set-up to produce a fast moving, stylistic aesthetic. However, neither writer, nor director, can distract the audience from the complete absence of character development, or moments of genuine tension.
Ed Mosbey (played well by Mickey Rourke) and Choco (Edgar Ramirez) make up the rest of the team that we see on the poster. Both of these characters do very little to enable us to like them. The same can be said for Harvey, herself. All are ruthless, foul-mouthed, fiery tempered animals, who need to be caged. It comes as a surprise then - perhaps, the only surprise to be had - that Kelly and Scott expect us to care about them. The minimal tension that may exist in a scene where their lives are threatened is sabotaged by Scott's attention-deficit direction, which never stays with one camera angle for more than two seconds. And none of them are funny, either. Harvey's clean-cut accent and bad boy language wears thin almost instantly. The only real fun is to be had from Christopher Walken's TV executive whose running commentary on the violence he sees on his reality show juxtaposes with the cannon of psychotics we have seen him embody so convincingly in a host of movies.
Whilst Domino has a confused plot and few moments of genuine excitement, it looks good. The cinematography is faultless, combining pale green and sepia tints to allow the grittiness of a bounty hunter's profession to pervade, involving the audience in the action. The cast does its job admirably, embodying their low-lives with ease, and it is not their fault that the audience is so distanced from them. Instead, we have the very nature of the story to blame for that.
Domino is a film about nasty people being killed by more nasty people and not even a Jerry Springer cameo can impact upon that level of superficiality.
Reviewed on: 21 Oct 2005
Share this with others on...