Eye For Film >> Movies >> Disintegration Loops (2021) Film Review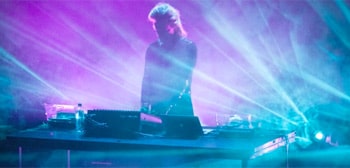 "Repetition is a form of change," said Brian Eno, a pivotal figure in the development of electronic music. David Wexler quotes this at the start of his documentary about composer William Basinski. Twice. By this time the original Disintegration Loops album is already playing and we are reminded that it is 63 minutes long. Some viewers will find this funny, some relaxing. If you're in the latter group, don't worry. Wexler quickly drops the imitation in favour of analysis and conversation. The Loops resurface at strategic intervals in a more complex soundtrack, just as Basinski's story ebbs and flows within a wider reaching portrait of New York City.
Basinski's life is every inch a New York story. Years spent on the breadline, eking a living as an electronic musician, much admired by his small community but with no means of breaking through into the mainstream. Going from party to party, always fabulously dressed, supported by a slightly more successful boyfriend, living in the beating heart of the city in a crumbling apartment just blocks away from multi million dollar residences. Drifting through the city capturing interesting sounds or, sometimes, just sitting at home plucking sounds out of the air as they bounced off a nearby antenna. That's where, as he recalls, the original Loops came from. Now wearing just his underpants and shades, trailing around the apartment with a cigarette dangling out of his mouth, he fishes around in a small plastic box to reveal the pieces of tape that ultimately made him famous, tangled together and looking rather the worse for wear - but that's part of the point.
The process by which tapes decay is explained in detail here, with Wexler's eye for detail and Bradford Coleman's editing keeping it from getting boring. It's an obvious metaphor for aspects of life in the 21st Century, complemented by the textured look of Wexler's photography and the archive images which support the central narrative, but the director shows rather than tells, setting the story of the Loops alongside two of the city's greatest traumas. Basinski witnessed the planes hitting the Twin Towers directly from his window. "We put Disintegration Loops on really loud, opened all the windows and went up on the roof," he recalls. Unexpectedly, i the aftermath, it was his music that the city reached for. Here there is discussion of its calming effect; less so of its ritualistic aspect or of the phenomenon whereby people are drawn to unify around shared cultural elements in times of crisis but, again, we can see this directly as the story unspools. Their moment come, those little strips of plastic and rust made Basinski a superstar overnight.
Little seems to have changed about his life. There's some amusement at the way that the music press went from describing him as an electronic musician to billing him as an avante-garde composer. He played in Central Park to crowds of people who needed a sense of togetherness, then in concert halls, moving in the opposite direction from the story told in his art. As Wexler tracks around the creative chaos of his home, one gets the sense that he was insulated by this life that he had built, high up above the streets where strangers reimagined him, too busy creating new works to succumb to the familiar pressures of the industry.
If music brings us together, how does it function when we have to be apart? In the early days of Covid-19, those famous streets were empty. Soon, almost 50,000 people were dead, dwarfing the losses in the towers. Here the Loops found a new purpose as Basinski released Lamentations. It's a story which, when the film ends, is only halfway through. is that an invitation to expand into a feature? Perhaps, but Wexler, like Basinski, has an instinct that tells him when his rich narrative has reached a natural lull. It's time to cut. Want more? Watch it again.
Reviewed on: 29 Mar 2021
Share this with others on...