Eye For Film >> Movies >> De Luce 1: Vegetare (2009) Film Review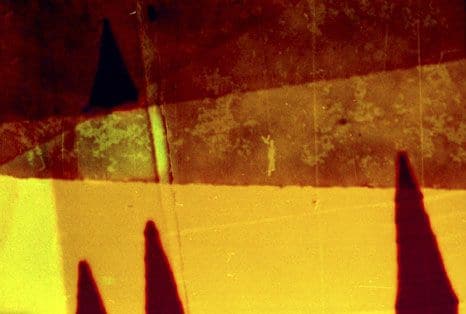 Opening with a quote from Robert Grosseteste, De Luce 1 is experimental filmmaking of the kind that tends to infuriate. It could be described as 'alchemical', indeed, it has been, but more in the sense that buried somewhere among the art and the film-flam is science, and it's the science that should, does, produce the fascination. Hand-processed super8 film makes patterns, colours, shapes that raise questions about technique, origin, which remain unanswered.
Janis Crystal Lipzin's film is visually impressive, but like much of Edinburgh Film Festival's Black Box programming suffers in company. Though it, at least, was presented with a title card, in the general scheme of the strand there are often identity issues. Even its genesis (if you'll pardon the expression) as processed imagery of plants is shared with other films in the same strand, indeed, screening.
That's not to say that some experiments are not worth repeating, save that often, presented singly, films like De Luce 1 lose some of their power - second viewings (readily achieved since it's less than five minutes in length) let one tease out moments of pattern, try to comprehend what it is that has produced colours that might perhaps not normally be seen. Here, certainly, there's concern about the fact that Eye For Film saw a digital videotheque presentation rather than the actual work - no matter how accurately transcribed there remains a divide between the physics of light shone through treated film, even copies of treated film, and the flicker of phosphor on a high-end monitor.
As with many such films curiosity about processes tends to linger - there's no notation of what was done to process, no seeming sequence to the changes wrought upon the film, only the final product. Pleasant though that curiosity can be, in context it can tend to infuriate.
Reviewed on: 11 Oct 2010
Share this with others on...