Eye For Film >> Movies >> Cowboy Dave (2017) Film Review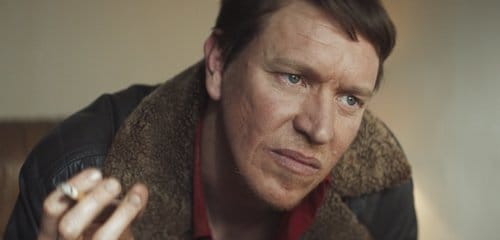 Cowboy Dave is a stunnning one-room Western, an oater inspired as much by one kind of Ford (Capri, Anglia) as by another (Stagecoach, Searchers). It sits in an almost perfectly observed specific datelessness, a sense of just-about-Eighties as well observed and created as an extended sequence of living room menace. As solid as its grounding in a very particular time and a very particular place is, its deftness is in chronological trickery, a rhythm that jingles and jars as ably as its soundrack. It's an almost entirely true story, apart from the lies. It's great.
It's not Colin O'Toole's first short, but it's hard to believe it's not among his most autobiographical. Apparently based on a true story, an encounter with Dave Rowbotham, a member of the Durriti Column (band, not the anti-fascists). He was also in the Mothmen, and beyond a beautifully kept album cover their music features on the soundtrack. What features more heavily, however, is a story, Steve Spruell's Cowboy Dave is laconic, drifting on the settee, outfitting a certain suburban decay with raconteur as antimacassar. Chain-smoking, nonsense talking, Steve Evets-confronting. Evets' Kenny wears glasses, can see through Dave's dissembling, but it's Terry (Matt Raikes) who's tooled up - they've come to collect, and they've brought company - Debbie (Christine Bottomley), and what might be a carpenter's half-hatchet. They're both sharp.

The cast aren't the only familiar names - though their actorly CVs are sufficiently diverse that they've turned up in places as various as near-future TV London, old-fashioned gangland London, and French comic-book space. Graham Massey of 808 State provides a soundtrack, apparently his first, and while it's not as foregrounded as, say, Clint Mansell's work, it's still a good indicator that more folk who were in dance acts from the Eighties and Nineties should get similar employment. Nominated for the 2018 Short Film BAFTA, Cowboy Dave is a standout in an overwhelmingly strong short-list.
An important bit of advice is contained in the dialogue - "pay attention". In even the shortest shorts, all sorts of delight await. Cowboy Dave is one of them, a yarn that's reelsome, a treat.
Reviewed on: 17 Feb 2018
Share this with others on...