Eye For Film >> Movies >> Closed Circuit (2013) Film Review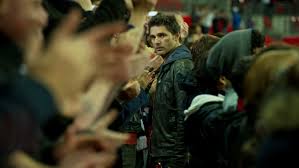 There is no doubting that Eric Bana - so good in Australian films such as Chopper and Romulus, My Father - has talent, but when it comes to products outside of his homeland, he also has an unfortunate knack for picking B movies. The films themselves are lucky to have him. Last year's slightly silly Deadfall gained extra gravity from his presence and now it is scriptwriter Stephen Knight who should be grateful that Bana and the ever-watchable Rebecca Hall are on hand to help sell his frequently heavy-handed and exposition-laden dialogue.
We're thrust into a world of watching, through CCTV cameras at London's Borough Market, which double and then multiply as we try to take in their various angles. It's an indication of the territory we are going to be in. You're being scrutinised, director John Crowley is telling us, and there could me more to this than meets the eye. Sadly, as with Knight's Statham vehicle Hummingbird, this surveillance idea never really goes anywhere. Yet, the current state of the world is ripe for paranoia movies. TV seems to have been serving up an almost weekly diet of revelations of US government surveillance and there's a sense of the law-abiding populace getting squeezed between the pincers of terrorists who may wish us ill and the authorities who, theoretically at least, should be aiming to protect us. If only Knight and Crowley's film possessed 30 per cent fewer cliches and 30 per cent more sense.

The trigger for the action is a terror explosion. Many are dead and Muslim emigre Farroukh Edogan (Denis Moschitto) is in custody. Because of national security issues, the Government and intelligence services beg for the case to be heard in closed session, meaning that Edogan must be represented in open court by one barrister and in closed court by a second special advocate. Bana - adopting an English accent for no good reason and which needs more work when it comes to words that end in 'ing' - is called up as the barrister after his predecessor commits suicide (the conspiracy thriller equivalent of putting up a large red sign marked Highly Suspicious). In addition to Bana's Martin Rose being "famously awful" on a personal note, there is also the slight problem that he and the newly appointed special advocate Claudia Simmons-Howe (Hall) have previously had an affair, which should mean one or other of them walks away from the case. They don't, of course, because this is the movie world and that would be far too sensible. As they both start to investigate - he from the open material, she from a load of files given to her by a shifty intelligence services sort (Riz Ahmed), they begin to suspect there is a lot more to the case than they first thought and that Farroukh's son Emir (Hasancan Cifci) may hold the key to the truth.
The set-up is strong but after that, this is nothing more than a sub-Le Carre romp. Plot black holes quickly emerge and start to suck all believability out of the film. You could forgive no one paying much attention to one death but the second one that occurs here should set loud alarm bells ringing among people who would not be afraid of MI5. Jim Broadbent's Attorney General is also problematic, seemingly able to drop by for a little chat with Martin at will, even if Broadbent is clearly having a fabulous time. Hall and Bana press on regardless, managing to sound sincere even when the script threatens to strangle the tension. Ciarán Hinds has fun as Martin's colleague Devlin, although fans of this sort of film will find him very familiar, while the usually excellent Anne-Marie Duff fails to overcome the script and Julia Stiles is wasted.
If this was on STV on a Friday night, you'd think it was solid for a TV thriller but as a cinematic experience it simply makes you recall how often this sort of thing has been done much more satisfyingly and wonder wistfully what this cast could have achieved if they'd conspired on better material.
Reviewed on: 23 Oct 2013
Share this with others on...