Eye For Film >> Movies >> Clashing Differences (2023) Film Review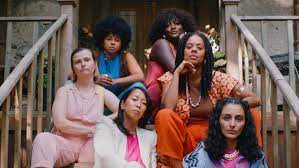 Inclusivity is a noble aim in any organisation, but it's one which requires a willingness to listen and to carry out systemic change. All too often, organisations use the terms to mean bringing in a few token people of colour in high profile but not very influential positions – or, as in this case, just recruiting them temporarily for a high profile event with no guaranteed follow-up. This bitter and often hilarious comedy, which screened as part of Newfest 2023, is bookended by conversations between the all-white board members of fictional German feminist association House Of Womxn, who decide to do just that and get just about everything else wrong in the process.
Merle Grimme's film represents the nightmare of everyone who complains about 'woke' culture. It's a collage of in-jokes, but its well drawn characters and gleeful adoption of cringe comedy tropes ought to make it accessible to most people. As it teases out the hypocrisies of the event's creators, highlighting the absurdity of many racist and colonialist tropes, it's savvy enough not to let anyone off the hook. Everybody has flaws and efforts to construct new ways of thinking sometimes prove absurd in themselves.
The setting for the event is a beautiful old house, but it doesn't take a whole lot of awareness to realise that Brandenburg, with its thriving neo-Nazi movement, might not be the best choice of location. Paula (Lisa Hrdina) doesn't make the best choice of host; it's not so much that she's white as that she's in a relationship with event cinematographer Sus (Rabea Lüthi), and also having a not terribly discreet affair with philosopher Flora (Jane Chirwa), one of the guests. "I think I might by poly," she declares at one point, which isn't terribly helpful, given that they're not.
Also present are Kisha (Thelma Buabeng), a fashion designer whose insecurity about her thankfully absent daughter, conceived in "a moment of weakness" with a white man, leads to her making constant colourist remarks about others; Simone (Minh-Khai Phan-Thi), a lawyer whose decision to raise her child gender neutral immediately gets some of the others' backs up; and Çena (Safak Sengül), a working class immigrant whose difficulty walking due to having one leg in a cast doesn't stop her trying to pick a fight with everyone she meets. In particular, she is feuding with Flora, with whom she used to run a diversity-focused company and whom she now regards as a traitor.
It's Sengül who gets most of the best lines as she delivers the most volatile performance, one which incorporates a fierce defensiveness, an inclination to mischief, the tangible pain which stems from multiple forms of rejection and, latterly, an unexpected sweetness. Çena is the antithesis of Flora and Simone's efforts to be calm and professional no matter what the situation throws at them. Meanwhile Kisha is full of righteous anger delivered with a sharp wit (and a hint of personal heartbreak behind it), Sus is wondering why the hell they've been asked to do this when they're non-binary, and Paula is making desperate efforts to declare her understanding which will come across, even to viewers for whom this is unfamiliar territory, and spectacularly self-centred and inappropriate.
No amount of pink champagne will douse these flames. What the group needs is to remember who the real enemy is. A shocking discovery in the house and a visit in the night will put the rest in perspective. Recognition of diversity needs to be balanced by solidarity, which House of Womxn can provide, but not in the way its board imagined. Spiky, insightful and joyously unapologetic, Clashing Differences delivers, in one neat package, all the self-analysis which alt-right pundits imagine doesn't exist in these circles, and all the laughs as well.
Reviewed on: 15 Oct 2023
Share this with others on...