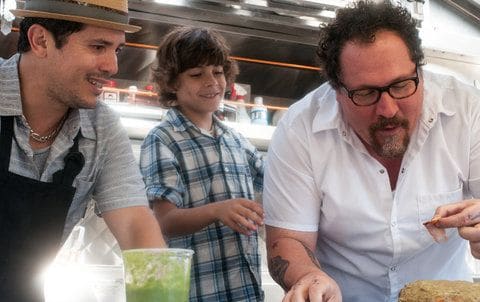 Jon Favreau abandons big budget franchise-ville for a return to his indie roots with a heartfelt but haphazard foodie-com enlivened by a tasty cast. Starring, written and directed by the venerable Iron Man helmer, it's not quite up there with his breakout script / performance from the Doug Liman-lensed Swingers but it's certainly a damn sight better than Made. With a fruity cast and some zingy dialogue, it's a breezy, tantalizing treat for the undemanding, but there are too many niggling sour notes curdling the cream.
With a prestigious food blogger due and a spanky new menu ready to go, once-promising chef Carl Casper is enraged that his boss is suddenly adamant that they fall back on the same staid menu the restaurant has had for 10 years. After being alerted to disastrous online reviews, his 10-year-old son clues him up on social media in order to see what's being said about him, unwittingly unleashing Tweet-war on his critic and making him a viral phenomenon. When the culinary rematch goes awry, Carl finds himself out of work and questioning his life, but his ex-wife's suggestion they go on a family holiday to Miami opens up some new possibilities that might just put the sizzle back into Carl's cooking and reconnect him with his adoring son.

As with many would-be bittersweet comedies, the main problem with this mid-life crisis saga is its protagonist. As was the case with Bridesmaids and pretty much everything Paul Rudd has starred in recently, Carl can be such a hot-headed, self-serving ass that it's hard to feel any sympathy for him or invest in his transformation. This is a great shame as Favreau remains an immensely likable presence with great comic timing, but the role he's written himself leaves him little room to breathe.
Much of his appealingly awkward Swingers schtick is repeated here, applied to the social media age in a way that's initially amusing but soon grows grating. The answer phone scene from that film is more or less replayed on Twitter, but with rage replacing the heart; it's difficult not to feel Casper deserves everything that's coming to him, which makes his sugar-coated redemption hard to swallow. It's this would-be heart-warming journey in the second half that almost sinks the film; there's enough edgy dialogue and rib-tickling situation-comedy to make the first half thoroughly enjoyable, but once Carl hits the road and rediscovers his mojo, the script settles into a repetitive feel-good groove.
As if it's not bad enough that Chef is marinated in sticky sentiment, Favreau's occasional attempts to sprinkle in heavy-handed drama make for a stodgy mix. It's also lumbered with the biggest male fantasy wish fulfilment streak since John Turturro's Fading Gigolo: no matter how good a cook Casper might be, credulity is stretched beyond breaking point by having both Scarlett Johansen's hipster waitress and Sofia Vergara's pneumatic single mom fall for such an ill-tempered, tunnel-visioned schlub (the latter twice).
The mix of racial caricatures also leaves a bitter taste, but at least the self-aware and enthusiastic performances from the likes of Vergara, Bobby Cannavale and John Leguizamo get the juices flowing. The latter especially is the most relaxed and fun he's been in a while, despite his character's unblinking loyalty requiring even more suspension of disbelief.
It's Complicated moppet Emjay Anthony keeps the central relationship the right side of mawkish - he really sells Percy's longing to connect with his oblivious father, and subsequent cycle through frustration and disappointment. There's also a couple of profile-boosting celebrity near-cameos from Dustin Hoffman and Robert Downey Jr, but the former doesn't add much to the stew while the latter's smarm feels out of place.
Like Casper's chocolate lava cake, Chef's gooey inside lets it down somewhat; it's undeniably full of flavour and will definitely get your toes tapping and tastebuds salivating, but it could have been tighter, sharper and funnier with a few judicious cuts here and there. It's still perfectly passable summer entertainment, and it's an intermittent joy to see Favreau as a leading man again, but his culinary concoction isn't quite as tempting or refreshing as it should have been.
Reviewed on: 27 Jun 2014
Share this with others on...