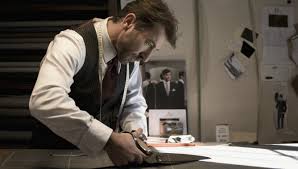 Manuel Martín Cuenca brings a spartan consideration to his tale of a tailor with a sideline in serial killing of which Michael Haneke would applaud. The versatile and talented Antonio de la Torre takes centre stage as Carlos, a pillar of the community, whose skill at stitching clothing together is only matched by his ability to sever women apart in his off-hours before dining on bits of them.
When out-of-town beauty Alexandra (Olimpia Melinte) turns up on his doorstep, it's only a matter of time before the killer's instincts kick in but he gets a shock when her twin sister Nina appears in her wake and he suddenly finds himself torn between his usual violent urges and the stirrings of unexpected romance.

Cuenca is not interested in the gore of the acts but in the conflict of Carlos and uses the will he/won't he set-up to tense effect - although the film suffers from the fact that this is really the only question in the equation. There are some half-formed mummy issues and religious overtones lurking in the background - the latter involving ideas of redemption and sacrifice in all its connotations - but these never take satisfactory shape.
Cuenca has a strong way with framing. His opening scenes, shot completely from Carlos' sightline, as he clinically stalks and kills a victim mine each moment for dread while a later chilling exchange, sees him hound a swimming woman from a beach in a way that makes us feel the ice of the water as much as she does. We are invited to see things from Carlos' cold perspective and to consider what makes him tick. The deliberate pacing, however, results in the periods between these flashes of brilliance feeling overly long and the inability to fully marry up any of the religious elements of the film with the tailor's psychological drivers feels like a failure of storytelling by scriptwriters Alejandro Hernández and Rafael de la Uz rather than a deliberate choice.
Worth seeing for its gripping central performances and Cuenca's impressive camerawork - signposting better films from him to come - even though the story lacks killer instinct.
Reviewed on: 26 Feb 2014
Share this with others on...