Eye For Film >> Movies >> Buffalo Death Mask (2013) Film Review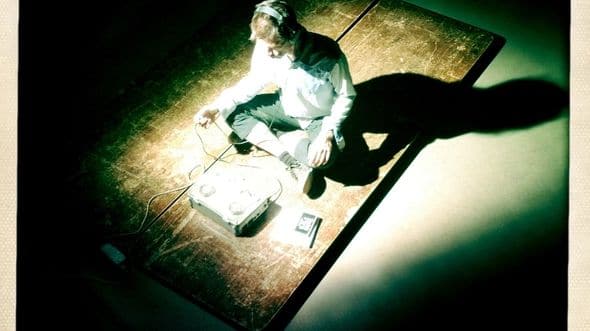 Quite heavily modified approximately still images (one hesitates to say 'Photoshop' without solid evidence) and voiceover, skylines and text that appears to be some handwriting-like font, or perhaps the output of a brush tool in the same, dialogue that may come from the reel to reel tape machine and phrases, statements.
Dark, morbid, humorous, touching on memory and the self, 'Buffalo Death Mask' is at once both dense and slight, affecting and detached, unbalanced by shifts in tone and presentation that may be intended to unsettle but leave it feeling somewhat sketchy.

There are some striking moments, a discussion of "22 years of HIV medication bottles" and the various cocktails is mordant, mischievous, but there isn't enough to get a proper grasp of - deeply personal, but through artifacts of presentation and a lack of context almost completely anonymous, there's a touch of the confessional in the small pin-pricks of self we're given glimpse of.
Mike Hoolboom's film is based on a conversation with Canadian Artist Stephen Andrews. There's a phrase in it, "and I found myself thinking here you are at last", but as a film it does not give enough context to identify the who or the you or the when or the wait, and so unless presented with more context to potential viewers isn't worth the time.
This is not to say that the effort isn't appreciated, but one finds oneself thinking of soup at times like this - it doesn't matter how much care and attention goes into preparation if there isn't a spoon. Despite its meaty subject matter Buffalo Death Mask cannot satisfy because it's not structured enough to grasp.
Reviewed on: 18 Feb 2014
Share this with others on...