Eye For Film >> Movies >> Bringing Out The Dead (1999) Film Review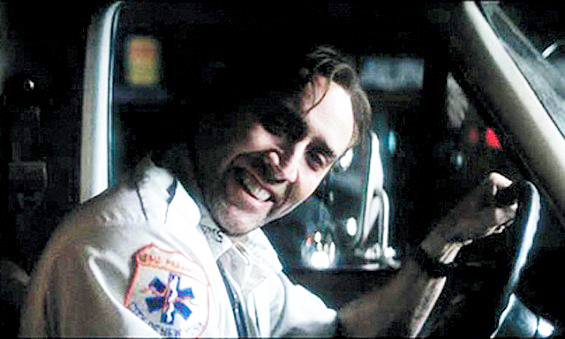 Hell's Kitchen, New York, 1991. Martin Scorsese comes home. Success has not mellowed him. Prepare for troubled times.
It was 23 years ago that he and writer Paul Schrader made Taxi Driver. Now they have returned with another story of a man on the brink of breakdown. There is a difference, however. Travis Bickle (Robert De Niro) wanted to destroy the sickness in the city. Frank Pierce (Nicolas Cage) tries to save it.
He works as a paramedic on the graveyard shift in a part of town that resembles the seventh level of Hades. Things have been so stressed for so long, normality and madness begin to resemble each other.
"All my patients were dying on me," Frank says. "I had nightmares, but now the ghosts don't wait for me to sleep." He is haunted by past failures, not that he need blame himself. Life is scraped off the sidewalk like dog dirt. He exists in limbo, facing the forces of darkness - drug suicides, alcohol abuse, bullet wounds, knife attacks - with what remains of purpose, too tired to do more than go through the motions. "Saving someone's life is like falling in love," he remembers. "The best drug in the world." Right now, he's forgotten the feeling.
The movie resembles ER on speed. The hospital where Frank takes the bodies is like a war zone. No one has time to say anything, except "Get out!" Chaos breeds confusion and fear. Frank is falling into an abyss. He hears voices - a heart patient in a coma tells him, "Kill me!"
The soundtrack is fierce, the street scenes anarchic, the performances wired. John Goodman, Ving Rhames and Tom Sizemore play Frank's partners in the ambulance, each on a separate shift, each a little crazier than the one before. Patricia Arquette offers a smidgen of softness in this violent place. As the heart patient's daughter, she recognises in Frank a good man going down.
Cage has arrived at a plateau where method acting reaps what it sowed. Looking as if he hasn't slept for a week, he is surprisingly passive, too traumatised by Frank's circumstance to play the hero, which is right. The film may lack the originality of Taxi Driver and yet, as a howl from the dark side, carries a long way on the night wind.
Reviewed on: 19 Jan 2001
Share this with others on...